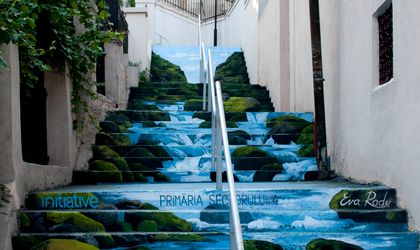 Xenofon Street, the hidden place of the capital, carries with it a part of the architectural history of Bucharest, erased during the years to different modernization and renovating projects.  In order to bring it back to life, the media agency Initiative, along with the artist Eva Radu, and the help of the brand savana, have "painted" the street. The socio-cultural project intends to give back a new face of the street and to bring some color and good disposition in the lives of the neighbours, but also to the ones that come across it by hazard.
The project has been finalized on the 30th of August and through the Facebook Initiative page, all the interested parties have been able to watch the evolution of the picture in real time.
It's the second year in a row that Initiative is creating this project, last year the color palette used suggested optimism and hunger for life and the street had a new look, in line with vitality and mobility of a modern city. Also, according to last year's press release, the layout used to paint the stairs street came after repeated brainstormings, with the main wish being to show in a single space the exponential places from Bucharest.
 "We are happy to see that the street has become an attraction point in Bucharest. If last year the design represented a tribute to Bucharest, this year we wanted to create a design that is in harmony with the wonderful Carol park, that is on this street. Our objective stays the same: to offer all the people passing through the area color and good disposition," said Alexandra Olteanu, managing director at Initiative.
"In 2015 savana carries the colors of inspiration and now on the Xenofon Street we can find them in a scenary attentively painted in colors that inspire happiness. The street happy profile fits perfectly with the new savana campaign, full of humour and, of course, color. Because this year savana came back to the essence of the brand, the color, we wanted to showcase again the quality of the brand. More than that, we wanted to bring happiness to the Bucharest citizans by offering them what we know best: creating stories about color, around our emotions and feelings, bringing back the strong bond between the color and each one of use," explained Cristina Avram, Marketing Manager Consumer of Fabryo Corporation.
After the new design, the street became an "urban oasis", where the 70 steps are beautifully painted under the shape of a mountain waterfall. At its end people are waited by the sight of the highest natural point of Bucharest, the Filaret hill.
Romanita Oprea