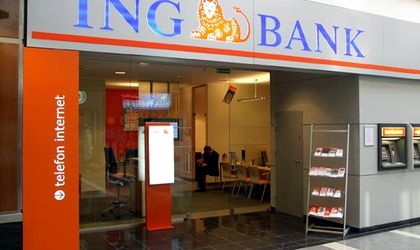 ING Romania posted all-round increases during the first nine months of the year, with a net profit of RON 251 million (EUR 56.5 million), up 9 percent over the same period last year, while total revenue reached RON 748 million (EUR 168.36 million, up 12 percent from the previous year), according to the company's financial report.
In January-September 2015 total costs came to RON 416 million (EUR 93.63 million), up 11 percent year on year, mainly due to investment in technology, business applications for customers and development of the bank's IT platforms. Cost to income ratio improved slightly compared to the previous year, dropping to 56 percent from 57 percent in 2014.
The loan portfolio increased by 21 percent to RON 13.15 billion (EUR 2.96 billion) from RON 10.84 billion in September 2014. The bank's funds have increased to RON 16.46 billion (EUR 3.7 billion), 24 percent more y-o-y. Consequently, at the end of September 2015 ING's market share in lending came to 5.7 percent, from 4.6 percent at the end of September 2014, and the market share in funds raised to 6.7 percent, compared to 5 6 percent the previous year.
Over the last twelve months, lending in RON increased by 43 percent to RON 7.4 billion, with a balanced contribution of both segments – retail and corporate lending, SMEs contributing 25 percent to the total.
In the first nine months of 2015, ING attracted 150,000 new customers, up 30 percent compared to the same period of 2014. The increase was driven mainly by the new tender ING Card Complet, allowing customers to transfer recurring revenue from other banks to ING.
ING Bank Romania is part of ING Group, a global international financial institution that provides banking services to over 33 million individual customers, companies or institutions in over 40 countries. Founded in 1994, ING Bank Romania is currently a universal bank offering products and services to all categories of customers – large and small companies, financial institutions, small businesses and individuals.
ING Group announced on November 4 a net result of EUR 1.09 billion for the third quarter of the year, and a net result for the first nine months of the year of EUR 4.19 billion, generated by a solid performance in retail banking, lower credit risk costs, credit growth and improved interest margins.
Natalia Martian