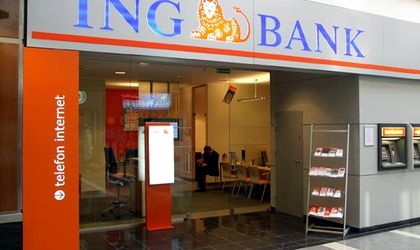 ING Bank Romania registered in the first half of the year an increase in lending, the loan portfolio reaching RON 12.6 million (EUR 2.86 million), 24 percent more year on year, according to company representatives.
The increase in lending led to an increase in revenues by 12 percent over the same period last year and reached RON 487 million (EUR 110.41 million) in H1 of 2015.
ING's market share in lending grew from 4.2 percent in H1 2014 to 5.4 percent this year, with an accelerated growth in lending in RON, 90 percent higher compared to the same period last year. Of the total portfolio, the share of loans in RON rose to 54 percent in H1 2015 compared to 45 percent during the first half of 2014.
The market share in customer funds amounted to 6.5 percent compared with 5.5 percent in H1 2014. Funds raised amounted to RON 15.9 million (EUR 3.6 million), 22 percent more than in H1 2014, mainly due to the increase of funds attracted from Commercial Banking and retail customers.
ING Bank Romania offers banking products and services through three dedicated divisions: Retail Banking division, dedicated to retail customers and microenterprises, Mid Corporate Banking dedicated to SMEs (EUR 0.5-5 million) and companies with and average turnover between EUR 5  to 100 million and Commercial Banking, dedicated to corporate customers and financial institutions.
While revenues increased by 12 percent in the first semester compared to H1 2014, total costs also rose by 11 percent over the same period last year, mainly due to technology investments.
Cost / income ratio remained stable compared to H1 2014, standing at the same threshold of 57 percent. Net profit fell to RON 155 million (EUR 35.14 million) in H1 2015, 6 percent lower than the first half of the previous year.
The loan portfolio increased by 24 percent from RON 10.2 million (EUR 2.31 million) in H1 2014, a significant contribution coming from Commercial Banking segment customers.
In the first quarter, ING relaunched its Card Complet product, which led to a rapid increase in the number of new customers in the first half, with 94,000 new customers, 20 percent more year on year. The card has two new services, Transfer your money and ING Bazaar, which registered good results during the four months from launch. About 12,000 transactions were made through Transfer your money and the ING Bazaar platform has generated sales of over EUR 2 million for the 31 merchants enrolled.
ING Bank Romania is part of ING Group, international financial institution of Dutch origin, offering banking services to over 33 million individual customers, companies or institutions in over 40 countries. ING Group announced a net profit of EUR 1.3 billion for Q2 of 2015.
Natalia Martian