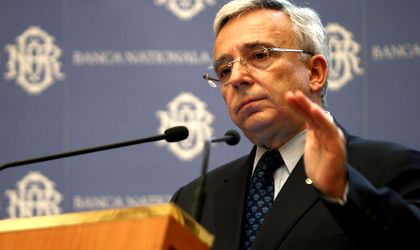 The National Bank of Romania (BNR) might tighten monetary policy sooner than previously expected this year in an attempt to combat rebounding inflation, provided that its measures do not lead to a rise in the RON, according to Mugur Isarescu, BNR Governor, as detailed by Reuters.
In January 2016, consumer prices saw a fall of 2.1 percent, less than the market expectation of 2.7 percent, and BNR predictions have inflation at 1.4 percent by the end of this year and as high as 3.4 percent by end-2017, says Reuters, adding that BNR could become the first central bank of the region to start monetary policy tightening. "Our inflation forecast was in line with the (January) figure, that is why I have said we may react on monetary policy sooner than the quarterly inflation report in the fall," said Isarescu to Reuters.
Isarescu also said that policymakers had a wide range of tools available for their use, such as positive interest rates, high minimum reserve requirements for commercial banks' liabilities, and a gap between its benchmark and money market rates. The likely reaction from BNR would be narrowing the corridor between its lending and deposit facilities, "which would in turn impact interbank rates," further reports Reuters.
Nevertheless, while Isarescu said the probability of narrowing the corridor this year was high, it would happen under certain conditions. "We do not want to boost the leu currency through our measures. There is no need for that, for…the past one and a half or two years we have felt it is in a fair and sustainable area," said Isarescu, as cited by Reuters.
Regarding the benchmark interest rate, which the central bank kept on hold at a record low 1.75 percent earlier this month, Isarescu said that "we may have capital inflows, in which case the rate is sufficiently low with the current corridor, or we may have capital outflows and then the rate is sufficiently high with a narrowing of the corridor."
As a result of Isarescu's statements, Ciprian Dascalu, chief economist with ING Bank Romania, has said that while they were "previously looking, despite acknowledging elevated risks, for a 2ppt cut for RON RRR releasing RON 3 billion in liquidity towards the end of this year", "after the governor stressing the need to act rapidly, we see less [than] a 50 percent probability for the RRR cut happening," referring to the reserve requirement ratio. Moreover, "once the NBR starts hiking its key rate, we see quite unlikely for the central bank to continue cutting RRR to avoid policy inconsistency" and they also "postpone our call for a RRR cut to the first quarter of 2017, if any, provided the state budget will run a surplus during that quarter."
Andreea Tint