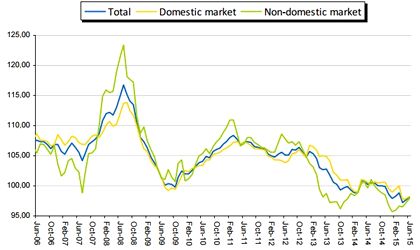 Industry prices for the total market (domestic and non‐domestic) increased by 0.3 percent in June 2015 compared to May 2015, supported by the external market advance by 0.5 percent, but compared to June last year, prices fell by 1,9 percent, according to data from the National Institute of Statistics.
Compared to May, industry prices increased by 0.1 percent locally and by 0.5 percent on foreign markets.
The biggest price increases were recorded in the intermediate goods industry and the durable consumer goods (both rose by 0.4 percent), followed by non-durable consumer goods industry and energy, (both up 0.3 percent). Prices of capital goods stagnated.
Compared to June last year, prices fell by 1.8 percent on the domestic market and 2.1 percent in the foreign market.
The durable consumer goods industry registered the highest price increase of 2.2 percent, followed by the current use goods industry (1 percent) and intermediate goods (0.9 percent). In contrast, prices in the energy industry fell by 6.8 percent and capital goods industries by 2.5 percent.
Between 2001 and 2003 industrial turnover in the EU-28 remained rather stable but afterwards increased steadily until spring 2008 when a rapid decline set in. Within a period of just over one year the index for European industrial turnover fell back to the level of 2005. Between April 2009 and July 2011 a steady increase brought turnover values almost back to the pre-crisis level. For the last three years however, index values for the domestic market and also for the total turnover stagnated or even declined. Industrial turnover for the non-domestic market displays a relatively steady increase for this time.
During the growth phase between 2005 and 2008 most countries continued their economic expansion which had already started some years before. High average growth rates were experienced in Romania, Bulgaria, and the Baltic countries, while relatively low increases were observed in Ireland. In Malta industrial turnover even declined.
In 2009 industrial turnover dropped in all EU member states. For the countries which had experienced a rapid expansion before the downturn, the decrease was relatively high (in many cases more than 20 percent), however almost all countries experienced decreases of more than 10 percent. Romania registered a 14 percent drop in 2009. The only exception to this general rule was Poland where industrial turnover in 2009 decreased only moderately by 2 percent.
In the majority of countries, the upswing in 2010 and 2011 was almost as swift as the downturn in 2009 and thus many countries regained or almost regained their level of industrial turnover of the pre-crisis year. For 2012 and 2013 however this trend did not continue and overall growth rates were negative. The situations between countries varied a lot. Cyprus displayed a drop of about 10 percent, while Latvia showed a relatively high increase of industrial turnover for both years. Romania, however, though registering a heavy slowdown against previous years, maintained a positive trajectory, with a 2.9 percent increase in 2012 and 4.6 percent in 2013.
In 2014 the overall trend improved somewhat so that a positive growth was recorded for the EU and the euro area. Romania recorded a further increase of 7.8 percent.
Natalia Martian