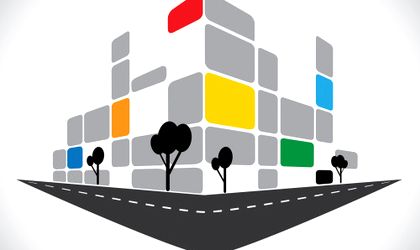 More than 360,000 sqm of industrial space were transacted during the first nine months of the year for EUR 160 million, while some 240,000 sqm worth about EUR 100 million are expected to be sold until the end of the year, according to a study by JLL.
The office and industrial markets generated close to 70 percent of the total transactional volume in the first nine months, and several key projects are currently in advanced stages of negotiations. Therefore, the total investment volume for property is expected to reach about EUR 800 million at the end of 2015.
Among the largest transactions registered in the third quarter there were Aberdeen's Iris Titan (retail space) that sold for EUR 86 million to NEPI, Bluehouse's Victoria Center (office) that sold for EUR 27 million to GLL and Private Local's Deva Logistics Park (industrial space) that went to CTP for EUR 10 million. At the same time, CA Immo bought the minority shares held by EBRD in Riverplace and Europe House office buildings for EUR 36 million and EUR 16 million, respectively.
Prime yields stood at 7.5 percent for office and retail, while industrial spaces registered prime yields of 9 percent.
Commercial properties in Romania are currently transacted at a yield gap of between 150 and 200 bps when compared to Poland and the Czech Republic. This, combined with the strong macro-economic background, the increasing competition and prices for prime products in the other countries in CEE, resulted in the highest investor interest across all market sectors in the last years.
The number of transactions increased when compared to 2014, however the average value decreased, proof that the market has become more liquid and investors are also looking at smaller projects. Since the start of the year, several new names have entered the market or have become active once again. These include P3, CTP, GLL and Lonestar. Pundits expect this trend to continue, with new, high profile real estate players investing in Romania.
In the third quarter of 2015 the office stock reached 2.27 million sqm, with 17,700 sqm more being added through Ion Mincu Offices (4,000 sqm), Business Design Center (5,000 sqm) and PC Center/Iridex (8,500 sqm). In Q4 41,600 sqm are planned to be delivered, of which 32,000 sqm from AFI Park 4&5.
The overall vacancy rate in Bucharest marginally decreased over the quarter by 20 bps to the current 13.1 percent, even though several projects were completed. Vacancy is expected to marginally increase by the end of 2015, due to the fact that space with no significant pre-leases signed will be delivered. Moreover, in Q1 2016, two large buildings are expected to be completed, which will probably push up the vacancy rate further.
Vacancy rates continue to be uneven between sub-markets, which is reflected in the evolution of the rental levels. While in Baneasa, South and Pipera North vacancy is around 35 percent, vacancy in the CBD, Floreasca –Barbu Vacarescu, North, Dimitrie Pompeiu and West is below 10 percent. Over the last quarter, incentive packages remained consistent, with landlords usually offering both rent free periods and fit-out contributions.
The total modern retail supply in Romania reached approximately 2.8 million sqm at the end of Q3 with Bucharest's stock currently standing at just over 1 million sqm. The latest additions to the market targeted areas which were previously lacking dominant schemes, like Immochan's Coresi Shopping Resort in Brasov and NEPI's Mega Mall in Bucharest. Moreover, the South-African investment fund completed the extensions of City Park Mall Constanta (1st phase), Deva Shopping City and Severin Shopping City.
With retail sales continuing on the hike registered after the VAT drop, investors reacted and new projects spanning between 27,000 (Veranda Mall Bucharest) and 67,000 sqm (Park Lake Plaza Bucharest) are expected to be delivered in 2016.
After a relatively strong first half of the year, when approximately 86,000 sqm of industrial and logistics space were delivered, Q3 2015 saw the delivery of a further 39,000 sqm. WDP completed construction of the 15,000 sq m built-to-suit unit for Yazaki in Braila and the 7,000 sqm extension of WDP Ploiesti for Roquet. Alinso opened the 13,000 sqm extension for Snamprogetti in Ploiesti West Park and Europa Property completed the first phase of Aries Industrial Park.
Approximately 210,000 sq m are expected to be delivered in Romania by the end of 2016, including the extension of P3 Logistics Park (75,000 sqm) in the west of Bucharest and part of the new Log Center Mogosoaia (45,000 sqm) developed by Immofinanz in in the north of the capital city. In the rest of the country, the extensions of VGP Timisoara, WDP Ploiesti and Brasov, Industrial Park Brasov, Log Center Ploiesti and Tetarom 3 in Cluj-Napoca are expected to be finalized.
Natalia Martian