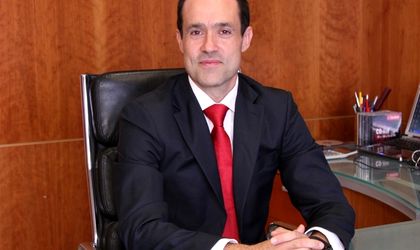 Vodafone Romania's CEO Inaki Berroeta will take the helm of Vodafone Hutchinson Australia, as of March, according to a press release posted on the Australian company's website. A successor to Berroeta at Vodafone Romania has not yet been announced, but the company has officially confirmed  the information.
"Vodafone Romania confirms that Inaki Berroeta will become CEO of Vodafone Hutchinson Australia, starting March 1 2014. In the next period, Vodafone will announce the new CEO for Romania," goes the statement.
Berroeta follows in the footsteps of Bill Morrow who will leave the Australian mobile carrier at the end of March.
Before being appointed the lead of Vodafone Australia, he acted as CEO and president of the Romanian branch since 2010. He is credited with  improving the company profitability, which posted EUR 769 million total revenues and EBITDA of EUR 276 million for the fiscal year 2012-2013, on a market where the pressure of prices is very high.
Vodafone Romania had 8,182,923 customers, at September 30, 2013.
Berroeta also oversaw 3500 employees in the Romanian branch and represented Vodafone Romania in a landmark bid to renew and acquire a 15 year spectrum license, which enabled the company to  establish itself as the first mobile carrier to offer LTE/4G services in Romania. Lasy year, he started the Vodafone Romania store franchise program, for entrepreneurs who are considering entering the mobile communications business.
Says Berroeta: "I have felt wonderful over the past three years I spent in Romania. (..) Romania will always be in my heart!"
The executive has 20 years of background in the telecommunications industry. Prior to Romania, he acted as president and chief executive officer of Vodafone Malta in 2007. Previously, he held various operational roles at Vodafone Spain, Global Star USA, AirTouch International Inc (USA), Airtel Moviles (Spain) and Keon (Spain and USA). Berroeta holds a Master of Science in Telecommunications from Bilbao Superior School of Telecommunications Engineering and a Master of Business Administration from Henley Management College.
He is joining Hutchinson Australia at a time when Morrow expects the company to return to growth after two years of losses, and the churn of millions of customers to its rivals Telstra and Optus.
In a statement, Morrow said that Berroeta's experience in the Vodafone group would help ensure a smooth transition as Morrow moves to NBN Co. "Inaki is a great fit for the local team, and his diverse background places him well to take Vodafone through to the next phase of its three-year turnaround. His appointment demonstrates Vodafone Group's and Hutchison Whampoa's commitment to developing talent globally and to putting the right people in the right places," Morrow said in a statement.
In deciding to leave Vodafone to join NBN Co in order to be able to "leave a legacy", Morrow said that he is leaving Vodafone at a good time for the company.
"Vodafone Australia is in a position where it has some stability to it," he said.
"When you look at the platform that has been laid by the employees, by the current management team, it's a good time to move on to some other interests [of mine]."