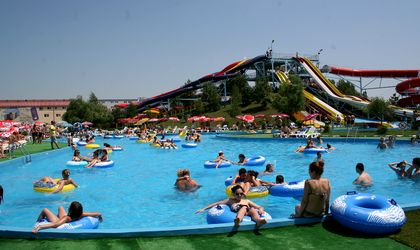 Summer is officially here, so to help you keep your cool BR brings you a breakdown of Bucharest's top seasonal swimming pools where you can escape the heat with a refreshing dip. 
By Oana Vasiliu
It's already hot outside and the weather forecasters expect this summer to be as scorching as the last, so it's fortunate the water from Bucharest's pools offers a quick way to cool off.
The capital is not swimming in places to take a dip, so we have drawn up a list of resorts which offer a good splash, where you can unwind with a summery cocktail or refuel with a yummy snack.
Club Floreasca
Address: 1 Mircea Eliade Blvd.
Open: Tue-Sun, 08.00-22.00
The resort, situated in a quiet area of Bucharest, has an indoor pool equipped with a state-of-the-art water filtration and heating system. It has a special area for sun bathing, if you want a natural tan, and there are also facilities for children. The entrance fee is RON 80 per day, and one, three- and six-month as well as one-year subscriptions are available.
Club Snagov
Address: 1B Nufarului Street, Snagov Sat, Ilfov
To enjoy a relaxing sunny day and sip a delicious cocktail without getting out of the clear water in which the reflections of the palm trees shimmer, consider heading for this place, barely 25 minutes away from Bucharest. The Snagov Club Pool Bar welcomes you with clean and clear water, ideal to refresh you, and comfortable chaise-longues to repose on while savoring your favorite drink surrounded by palms, good music and fun.
Crowne Plaza Hotel
Address: 1 Poligrafiei Blvd.
Open: Mon-Sun, 06.30-23.00.
In the north of the city, this hotel boasts a relaxing indoor pool with heated water, which comes with a summer terrace surrounded by greenery, and chaise-longues where you can sunbathe. The entrance fee is RON 65 from Monday to Friday. Subscriptions also include access to the gym, sauna and massage.
Divertiland
Address: 1st Divertismentului Street, A1 Bucharest-Pitesti highway, km 13, 077040, Chiajna, Ilfov.
Open: Mon-Sun, 10.00-20.00.
This place promises food courts, inflatable tubes, sun beds, lockers, clean water, a team of lifeguards and first aid unit, shops and an ATM.
Children can have some  aquatic fun at the Elephant Springs or the Hippo Pool, while adults test the water slides, the RainbowTower, Waterfall and Kilimanjaro.
If you're in the mood for more extreme pursuits, try Bungee Dome – the jumper attraction. The entrance fee is RON 50 on weekdays, RON 80 at weekends. Subscriptions come with discounts.
Saftica Pool
Address: DN 1 road, Saftica village, Ilfov.
A three-ring swimming pool for total relaxation only 10 km away from Bucharest awaits its visitors. The Aqua del Mar pool offers leisure, play and swimming zones, but the best option is to take a cocktail from the pool bar and enjoy it on an inflatable.
Waterpark
Address: 255A Calea Bucurestilor, Otopeni, Ilfov, near OtopeniAirport.
Offering endless splashing fun, Racer, Twister, Turbo Slide, Kamikaze, Super Ride and Splash Crash are the tubes that Rino, the water park's mascot, recommends.
For a day of wet and wild fun in the sun, you can experience it all at this location.
oana.vasiliu@business-review.ro