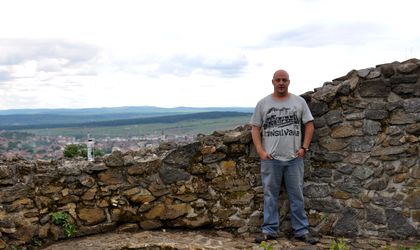 It's not a secret anymore that in recent years, Transylvania's Saxon villages have attracted growing interest from foreigners who are charmed by the region's beauty and historical heritage. But not only foreigners are interested in finding out the stories hidden in Transylvania's heart. Andrei Crivat, founder of Prin Transilvania project, has started an online platform where he tells the stories of the landmarks discovered in Transylvania, gathering both villagers 'stories and historical background.
What is the Prin Transilvania project?
We like to say that this is the beginning of a story – a story of places full of history and legends, and the people who lived and who still live in those places. Basically, it is a project that wants to unfold the great historical and cultural heritage hidden in the Transylvanian villages. Everyone knows (or should know) the major landmarks – the Black Church in Brasov, Alba Carolina Citadel, Matthias's statue in Cluj and the houses of Sibiu. But few people know, for example, about the Zsombory mansion, which the owner lost in a card game back in 1900, or the Copler Shell Castle, where a witch cursed everyone who would ever live there, a premonition that was actually borne out.
How did you come to begin it?
At the beginning, I was driven by my desire to discover better the area near Cluj, to get to know the history of the place, as I was adopted by the town. Then, I realized that I could do even better than that, I could discover Transylvania and narrate my experiences to others. This is how the project began.
Who is behind the Prin Transilvania project?
I would say those who support us – companies that sponsor our adventure trips – and those who read us and follow us. I run the project with photographer Alex Dima, but there are a few people who helped us start it.
Was it difficult to create the interactive map?
The interactive map emerged as a result of our travels. After the first trips, we realized that it was better to mark the places where we had been so that people could visit what we had already discovered and find the historical landmarks more easily. There are some places that it's hard to get to because of the lack of road signs. Some of the castles are signposted on the main roads, but when you get off to visit them, you cannot find any signs, and must rely on villagers to direct you to the landmark. This is the reason I am seriously considering starting a campaign to persuade local and county officials to put up signs.
How often do you present Transylvania's landmarks on the blog?
We publish an average of two or three times a week and almost every day on social networks. On the website, we just promote and describe places we have visited, for now. We focus more on the stories and legends and less on the history of the places as we aren't professional historians.
What is the best story you have heard on your trips?
In every story that we publish I find something impressive, but I was amazed by the Cistercian Abbey in Carta (Sibiu county), which is nearly 900 years old – and its story. Also, a visit to Patrahaitesti (Alba county), one of the most isolated hamlets in the Apuseni mountains, where we met Paraschiva, a woman who uses an old popular wind instrument called a "tulnic", and who showed us how old people of the area, named "motii", communicated through the mountains for hundreds of years using the instrument. Then there was a visit to Scarisoara (Alba county), to a villager named Toader, who likes to play to another Romanian wind instrument, called "taragot".
Do you interact with foreigners? Do you present your project to them? What do they think about your approach to presenting Transylvania?
I couldn't particularly say that I have been interacting with foreigners about the project I am working for, but during my visits to Transylvania I have met several tourists and I gave them directions. In Nocrich, Sibiu county, an American scout had the keys to the village's fortified church and told us the story behind its walls, and he was pretty impressed by our project. But this year we are planning to make the website available in English, German and Hungarian.
Have you presented the project to any public institutions for support?
For the moment, we prefer not to involve public institutions in the project, although we did have some discussions with Cluj-Napoca city hall, but the help would be very limited, according to the legal terms. Moreover, I plan to approach several County Councils from the area to promote these landmarks that we are writing about more efficiently.
What's next? How do you plan to develop the project?
We want to extend the project and to find more resources to be able to make the trips, with more people, in order to write more stories about Transylvania. I would also like to find some video support as some of our meetings with the residents are memorable and we want to capture them as they are.
Oana Vasiliu