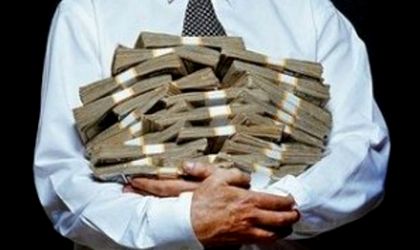 While local lenders say their lending to SMEs is on the up, entrepreneurs are still finding access to funds difficult.
Anda Sebesi
In the 2015 Romanian Entrepreneurship Barometer – Entrepreneurs Talk, conducted by EY Romania, 32 percent of respondents say local access to financing has deteriorated in the last year, 30 percent consider it to have improved, and another 30 percent find financing terms unchanged. The same research found that bank loans (26 percent) are the financial instruments that will have the most significant impact in supporting Romanian entrepreneurship in 2015, followed by European funds (19 percent), microfinancing (11 percent), venture capital (8 percent), public-private partnership (6 percent), the stock exchange (6 percent), suppliers (6 percent), private equity (5 percent), state aid (4 percent), business angels (4 percent), family and friends (4 percent) and customers (1 percent).
According to the same study, 82 percent of entrepreneurs consider access to financing to be difficult or very difficult, compared with 88 percent last time the study was carried out. But there is good news: in February the Bucharest Stock Exchange (BVB) launched AeRO, a market designed to finance projects for both start-ups and SMEs. In addition, AeRO lets companies access funds and list more easily and quickly on a regulated market while allowing investors to obtain exposure to start-ups posting significant growth.
Entrepreneurs that don't have access to traditional banking services are increasingly turning to microfinance. It has posted significant growth in the past few years, especially on markets recording rapid economic growth. According to EBRD data, cited by the EY barometer, Romania's potential microfinance market is worth about EUR 500 million, fuelled mainly by commercial banks and non-banking financial institutions (70 percent), with the remaining 30 percent unsatisfied demand.
Asked about the government measure that could most help entrepreneurs to access funds, respondents to the EY barometer say that fiscal facilities for investments in small companies (26 percent) is the first option followed by guarantees for loans (20 percent). For example, last year, FNGCIMM granted over 35,000 individual guarantees worth over RON 6 billion, of which RON 2.5 billion was given to SMEs. The fund manages RON 5.9 billion of loans supported through guarantees for more than 11,000 SMEs.
Last but not least, there have been discussions in the past year about creating a development bank based on the structure of EximBank. The new institution would finance priority projects from fields such as infrastructure, energy, the environment, projects developed by the local authorities, co-financing for European funds, the increase of energy efficiency and supporting farmers and education.
What lenders say
According to Alina Lupes, head of small business clients at UniCredit Bank, credits granted by the bank to the SME sector increased in the first part of 2015. "This evolution took place despite the context of a market where companies' optimism is muted. It was generated mainly by our focus on this segment and based on a mix of well adapted benefits to meet the needs of the different categories of SMEs and a customized approach," says Lupes.
Elsewhere, Ioana Maria Dumitru, head of commercial & SME banking at Garanti Bank say that the volume of loans granted by the bank to SMEs has increased every year by 12 to 17 percent, while in the first semester of 2015 it grew by over 7 percent on the same period of last year. Commerce, production and real estate were among the main fields of activity financed last year by Garanti Bank. According to her, SMEs account for 40 percent of the total corporate loans granted by the lender. "Nevertheless, we put great emphasis on all business lines and we aim to develop our portfolio in a balanced and sustainable manner," she adds.
Lupes of UniCredit says that the credit line for developing high-performing businesses has been the most solicited product. "With the support of this credit line, an SME can finance its current activity or its need for working capital, and benefits from the flexible management of its schedule of payments and collections. In addition it offers the funds needed to cover urgent payments before the estimated collection," adds the UniCredit representative.
Meanwhile, for Garanti Bank, financing for the current activity of SMEs was the most popular financing product in 2014. "Last year, the International Finance Corporation (IFC), a member of the World Bank Group, granted us a loan of EUR 35 million for supporting small and medium-sized companies," says the lender's representative.
According to National Bank of Romania (NBR) data, the majority of firms (62 percent) reported that they had not applied for credit from financial institutions between October 2014 and March 2015. "Companies continue to rely mainly on internal financing. Almost half of the companies that responded to the NBR study (44 percent), including those that posted a decrease in their profits during the period in question, chose to reinvest their profit or sell their assets as a source of financing," adds Lupes. She says that the situation was the same in the previous year too. "We can say that SMEs' appetite for financing their business using loans is stagnating," concludes Lupes.
"The banking industry is highly competitive and we believe that in the following period financing to SMEs will further intensify the competition between banks. This will be because there are few eligible customers and the available collateral is, usually, insufficient," says the representative of Garanti Bank.