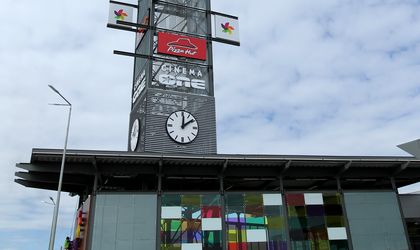 Coresi Shopping Resort in Brasov, central Romania, opens this Friday following a EUR 60 million investment made by Immochan, the real estate division of the Auchan Group. The shopping center has a 45,000 gross leasable area (GLA), out of which 13,800 is covered by an Auchan hypermarhet, the retailer's largest outside the capital and its 33rd operated on the local market.
Coresi Shopping Resort is developed on a 100 plot of land part of the former Tractorul industrial platform in Brasov (190 km from Bucharest) which Immochan bought in 2012. After delivering the mall, Immochan is starting works this June on an additional 13,500 GLA for tenants such as furniture retailers, sports retailers and healthcare operators, said  Tatian Diaconu, general director of Immochan Romania in a press conference on Thursday. Some 70 percent of this second phase has already been pre-leased, he added.
Immochan also says that it will invest this year EUR 3 million – EUR 3.5 million in clearing the site and infrastructure works for a residential project next to the shopping center.
The developer estimates that in the firt year Coresi Shopping Resort will generate EUR 6 million in rent revenues and will report some 8 million visitors from Brasov but also other regional towns. "Against Brasov's population alone (e.n. some250,000 inhabitants), it was clear from the beginning that this project is oversized and this is why we had a regional approach," explained Diaconu.
The mall is 96 percent occupied, according to company data. Other tenants besides Auchan include Zara, Bershka, Bigotti, H&M, Kenvelo, LC Waikiki, Lee Cooper, Massimo Dutti, Mohito, Orsay,Flanco, iStyle,DM, Douglas, Sephora and a Cinema One multiplex. The food court covers some 10 percent of the malls GLA.
Auchan now operates 33 hypermarkets in 18 Romanian cities. Last year the retailer's turnover amounted to approximately EUR 1 billion according to company data. Auchan Romania employs some 11,000 people.
Simona Bazavan