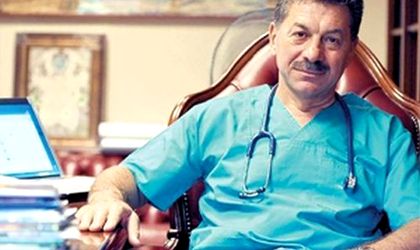 Ilie Vonica, who owns the Polisano health group, died Tuesday afternoon in one of his clinics in Sibiu, after falling from the top floor of his villa. Investigators are considering suicide as a possible cause of death.
Mediafax quoted sources from the investigation who reported that Vonica died in one of his clinics after he was brought in by SMURD. Doctor attempted resuscitation for half an hour before declaring him deceased.
Evidence so far indicates Vonica jumped to his death from the balcony of his villa on Andrei Muresanu street. Allegedly, the business man left behind a 5-page suicide letter written by hand. The family asked that its contents not be released to the media.
Ilie Vonica owned the Polisano chain of clinics along with the Reteta drug-store chain, both in the middle of a scandal regarding forgery of medical prescriptions. Several searches were conducted last month in this case, and Ilie Vonica and his wife, Ioana Vonica, were interrogated on May 20 in Bucharest. The interrogation ultimately led to Ioana Vonica being arrested.
According to the prosecutors, several representatives for the society that owns the Reteta chain registered into accounting fictitious bills for medical acquisitions from "phantom" society. The suspects allegedly forged 1,100 prescriptions and generated damages of RON 1,7 million.
Ilie Vonica is one of the richest men in Sibiu, with a personal wealth EUR 95 million, according to Forbes Romania. In recent years, he invested some EUR 12 million into a new factory which produces drugs for cancer and opened a private hospital in Sibiu, in 2013, following an estimated EUR 60 million investment.
He opened the first Polisano clinic in 1993, and in 2012 his group reached EUR 300 million in revenues and serves 2.1 million clients.