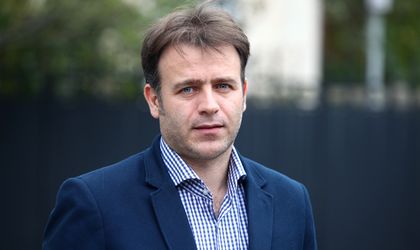 Felix Tataru, senior vice-president of the International Advertising Association (IAA) Global since June and founder of the GMP communication group, which numbers seven agencies, plans to expand the footprint of the association to Brazil, Argentina and Germany, he tells BR. Tataru, who recently became the first Romanian to receive the IAA Champion accolade, will become chairman and global president of the association by default in 2016.
By Otilia Haraga
What priorities do you have for the remainder of your term as senior VP of IAA Global?
One thing which is on the president's agenda, and I support, relates to the IAA World Congress. It is currently held once every two years, but we believe that the industry is too dynamic to wait that long, so we want to have it once a year. Next year it will be in Beijing.
Secondly, our focus is for the IAA to be represented as well as possible in key countries. We are not pleased that the IAA still does not exist in some countries. My targets are Latin American nations such as Brazil and Argentina. Brazil is very important, both because it is an emerging country, but also because agencies from Brazil have been ranking top for creativity at Cannes in recent years, so we cannot afford not to be there. Another country is Germany, where we have a very atypical situation: there is no other global association there because they are organized by lands and their civic participation is so high that there are tens, if not hundreds, of associations of all types.
The IAA has been, for many years, also a lobby instrument for the marcomm industry. In developed and mature markets, the IAA's relevance has decreased; it grows much more in countries where there are things still to be done.
Thirdly, like any shoemaker, we do not have shoes – I mean, even though we work in communication, we still need to work on our internal communication. There are a lot of projects going on that even our own members at IAA Global do not know about.
In 2008, when I began my term as global VP of Young Professionals, which includes about 1,000 young people up to 35 years old from a total of nearly 5,000, there were around 10 branches, and when I ended it, there were around 15. We will also keep on developing in this direction.
Last but not least, IAA Romania and IAA Austria will create an online hub where young professionals can share content. The content will be gathered, structured and put online from Bucharest.
How do you see the development of the GMP group?
My plan is to leave the position of general manager of GMP Advertising and remain just president of the group, to collaborate more closely with each partner, and work more on integration and the synergies between the agencies. Andreea Nemens, who is now my right hand, will take over the management of GMP Advertising and I will remain only president of the group. I don't know when this will happen exactly, because it is her first year as executive director, so it could take another year or two.
Just recently, we had our first event as a group. As you can see, there is more and more convergence everywhere and we should also pay more attention to integration. Another reason for this is that we implemented a common ERP for all our agencies a few months ago. It was made especially for media groups and it's called Ad-In-One. Last year, we tried to acquire an ERP from Romania, but it didn't please us, and after that we did an international survey, organized a tender and then bought this one.
 Are you interested in further acquisitions or ventures?
I never exclude anything because I like to explore. If you look at the way the group has evolved lately, you'll see that Luna used to be an independent agency and we partnered Claudiu Leonte, and for the past year it has been part of GMP. At the start of last year, we founded Chapter 4 Communications from scratch and, going back, Point Public Affairs also started from scratch in 2008. But, whether I want to start from zero or via a partnership, I need to free myself from the workload at GMP Advertising.
What is the current shareholding structure of the group's agencies?
I am major shareholder in all the agencies of the group, but the number of shares varies. For instance, I have a full package in GMP Advertising, while in others I have 51 percent. In May 2013, Ana Maria Diceanu, business development manager at GMP PR, became senior partner in the agency. She has worked with me and Ioana Manoiu for the past seven years. GMP PR started as the PR department of GMP Advertising, and in 2007 we decided to make them two separate companies. Ana Maria is Ioana's right hand and they are very complementary so it was natural to try life with three partners. I have more than 50 percent of shares in GMP PR, and the two of them are minor shareholders. Ioana is in charge of the management and is the administrator of the company while Ana is junior partner.
Will you recruit for new positions in the group?
First of all, we are trying to recruit a PR director for GMP Group, who should communicate for all the agencies in the group.
At Webstyler we have about 45 people, and at GMP Advertising there are nearly 50. At GMP PR, there were about 25 people, at Luna there are about 15, and at Point Public Affairs about 10. Overall, there are 150 people working for the group.
At GMP Advertising, we plan to hire people for two digital positions, someone to bring know-how to the teams. For instance, we need an art director with digital skills to help everybody grow, and someone on strategy as well.
What are you planning in digital development for the group?
Our approach to digital is that we have a specialized physician, Webstyler, and two general doctors – GMP Advertising and GMP PR. As a brand agency, you cannot afford not to understand all the communication outlets. Everyone at GMP Advertising will grow on digital skills. This strategy is applied by other agencies in Great Britain, Germany and the United States. If we look at the communication mix, TV remains the same, and the rest of the channels are going down; only digital is growing.
To align to this trend, next year the IAA will kick off the digital module of the IAA School because there is a great need for digital specialists.
How often does GMP compete in pitches?
We do not take part in pitches very often, about once per month. We don't have a growth target, so we don't want to overstretch. Of course, we want to diversify our portfolio. For instance, at GMP Advertising we do not have a bank as a client and we would like to. We took part in a pitch organized by BRD; we won the first stage but in the second stage we lost. We would also like to have clients from pharma; we used to have some but not anymore. When deciding whether to go to pitches, we are not put off by the number of competitors but the selection criteria; we never make decisions to participate before actually meeting people. It is important to have chemistry with the client, to understand the brand and the consumer.
What are your plans for Radio Itsy Bitsy?
The National Audio-Visual Council (CNA) will organize a public tender to allocate frequencies. It is hard to survive for lack of proper coverage: we now cover half of the country, which is not enough. Most radio channels cover 70-80 percent of the country. We want to expand our coverage.
Moreover, Itsy Bitsy is still perceived by most people as a radio station exclusively for children, but our research has shown that more adults are listening than children, most of them mothers, who are mainly responsible for household expenses. Our positioning as a radio station for children was very strong. Soon, we will have a campaign coming out to change that and show it's also for the parents. Based on the latest survey organized by D&D Research in the covered area, more than 1.4 million parents and kids are listening to our radio daily.
Next year there will be presidential elections in Romania. Do you plan to get involved?
It is too early to say. I have been contacted a few times but it is still not known who the candidates will be. Anyway, I have never known clearly that I will work on such a project a year before. It is the politicians' way of doing things; they don't plan in time, and it shows in the results: both in the way they lead the country and in the way they run their campaigns. There were cases when discussions started just two months beforehand. Moreover, when you work with a candidate, you have to share their beliefs and values, there has to be chemistry, and some things may not work out. I have been in a situation in which I had to decline the invitation because we were not on the same wavelength.
For instance, at GMP Advertising, there are certain categories of businesses we do not work with, such as the tobacco industry. We have lost a great deal of money because we were not willing to do campaigns for tobacco companies.
Last year's local elections were the first time when we did not want in; we were called but we did not feel represented by Mr. Prigoana. But I gave some pro bono advice to Nicusor Dan, who was the great revelation of the campaign.
Would you run a campaign for a party with a different doctrine?
I don't believe I could work for the left because it does not encourage entrepreneurship and it is not for capitalism. It is for social protection, not meritocracy, and does not have anything to do with Christian values. It's like when I was working for the state while also having to be efficient. I could never do that.
CV Felix Tataru
 2016 to become chairman and president of IAA Global
June 2013-present senior vice-president of IAA Global
2006-2011 president of IAA Romania
2008-present vice-president for Communication and Young Professionals in the IAA Global board
president and founder of GMP Group
GM of GMP Advertising