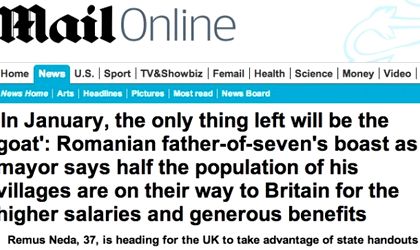 British newspapers demonised Romanians as "gypsies, tramps and thieves" but insulted Bulgarians far less in the year preceeding the lifting of EU working restrictions, according to a report quoted by Huffington Post.
Romanians were repeatedly associated with criminal wrongdoing by the press, but Bulgarians were not, according to a new report by Oxford University's Migration Observatory which looked at the coverage between 2012 and 2013. 4,000 articles, letters and comment pieces mentioning Romanians or Bulgarians, a total of more than 2.8 million words, were included in the analysis. The report found that Romanians were frequently associated with social issues, they were lumped together as a "single group" of troublemakers with the vast majority of tabloid newspapers dubbing them members of gangs, criminals, beggars, thieves or squatters.
When speaking of Romanian migration, the newspapers would use emotional terms such as "flood" and "flock". But the language was not as harsh in the case of Bulgarians.
William Allen, co-author of the report said: "The report is valuable because it provides a comprehensive account of how British national newspapers discussed Romanians and Bulgarians during a key period. The language used to describe Romanians – particularly in tabloid newspapers – often mention them alongside criminality and anti-social behaviour, while this was not the case with Bulgarians."
The newspapers analysed were The Daily Mail, The Mail on Sunday, The Times, The Sunday Times, The Sun, The Sun on Sunday, The Daily Telegraph, The Sunday Telegraph, The Express, The Sunday Express, The Guardian, The Observer, Daily Mirror, Sunday Mirror, The Independent, Independent on Sunday, Daily Star, Daily Star Sunday and The Financial Times.