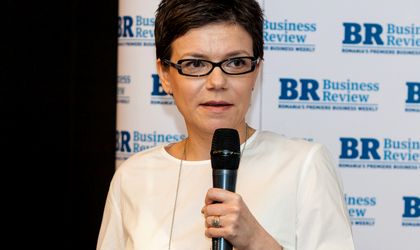 McDonald's has approximately 4,000 employees in Romania, but only 60 of them are in support positions. Alexandra Olaru (in picture), HR & communication director, McDonald's Romania, tells BR about the company's HR policy, starting from the package of benefits and up to training expenses.
 By Otilia Haraga
What is the employee retention rate at McDonald's?
In a good year, only around 40 percent of the employees leave. This includes the temporary workers that we hire for the summer. Our restaurants are more crowded in summer because we also open the terraces. Currently, there are 67 McDonald's restaurants in 21 Romanian cities. Out of the total 4,000 employees in Romania, 2,500 are under 30, and only 60 are in support positions. The team of managers numbers 300 people. Employees go through 48 months of training. Annually, approximately 1,500 go through the McDonald's training system, and since the beginning, over 26,000 people have been trained by McDonald's. We have restaurants where over 70 percent of the staff members are students but we also have a fair share of senior employees. Usually, they stick with us until retirement.
Also, approximately 200 Romanian McDonald's employees are now working in Germany, because they wanted to work abroad. Usually, they leave for lower positions in the hierarchy than they had here.
How much does McDonald's invest in training in Romania?
We have invested over EUR 100,000 per year over the past three years. The average McDonalds' employee is aged around 27-28 years old. Managers are usually aged from 34-38, and here I am referring to the first two layers of management in the restaurants.
Entry-level salaries are significantly above the minimum wage while management salaries are in line with the market. The basic package includes the salary and meal tickets. We also have a motivation plan which includes competitions, prizes and bonuses, which kick in when quantifiable business targets are met, such as growth in sales, growth in customer numbers or customer satisfaction targets. We carry out a mystery shopping survey in which we test how customers are treated in our restaurants. McDonalds Romania has emerged as the best in the world. The employee package also includes medical services. The package of benefits becomes more substantial further up the company hierarchy.
How many employees work in a restaurant, on average?
It depends on what type of restaurant we are talking about: whether it's a mall-like restaurant, street outlet or a unit with a drive-in, which have the most employees. We can have as many as 100-110 workers at a restaurant. They are trained to rotate and fulfill various tasks; for instance, they work as cashiers, in the kitchen or in the lobby. So far, seven of our restaurants are franchises, but the program is not ongoing at the moment.