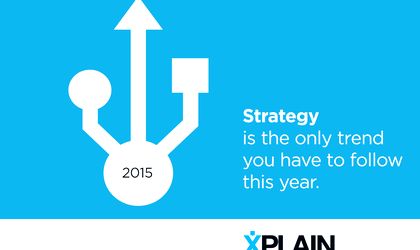 93 percent of the business pages in Romania seem to be lacking Strategy. They focus on getting more and more fans, even buying them, with expensive incentives. And that results to very low engagement. 0.01 percent engagement in a page with over a million followers is a fact that cannot be overlooked, opinates Xplain.
We seem to forget that Social Networks are made for connecting people, not Brands with consumers. Creating a branded page doesn't make your brand a social one.
Experience through Content is what can transform a brand into a Social Brand.
And content is not only your posts. It's also the content that consumers create. Your responses to consumers' complains. Your updated website content. Content is the searches consumers do daily based on their needs, and what they find during their decision path. The path to purchase.
But marketers seem to be forgetting all that.
Their biggest dream is to have over 1 million fans. They feel the need to run ads for their content. And create contests with giveaways, sometimes totally unrelated to their brand.
But all these cannot lead a brand to sustainable business results.
Let's remember what Content Marketing is:
"Content Marketing is a strategic marketing approach focused on creating and distributing valuable, relevant, and consistent content to attract and retain clearly-defined audience, and to drive profitable customer action".
Exactly, because without a strategy you can't have business results.
So, be bold!
Move from fans, contests, social ads, and all the noise, to a brand-centric strategic approach. Which is by definition… unique. You don't have to copy others or follow trends. All you have to do is strategize!
Where can you start from? From your brand, by analysing the situation it is in: Its performance and other kpi's; Customer insights; Its competitors; Its own capabilities.
Then, you can move on to the Objectives (where your Brand wants to be), and set the 5 S's scopes:
1. Sell – customer acquisition
2. Serve – customer satisfaction
3. Sizzle – wow factor
4. Speak – customer engagement
5. Save – quantified efficiency gains
Now it's time for Strategy, the Way to get your brand to where you want it to be. It's now time to think about segments; Target markets; Your Brand's Positioning; The "trust/try/buy" sequence; Integration; and the Tools (e.g. SEO, newsletters).
In order to get your Brand to where you want it to be, you need to establish the Path: the Tactics. The Actions you need to take, the "who does what and when". What are each and everyone's responsibilities? What are the processes you need to follow, in order to achieve optimum results?
Don't forget to evaluate your performance every step of the way, optimizing as you go:
1. Always keep in mind the 5 s's
2. Keep an eye on kpi's and web analytics
3. Review user experience
4. Optimize the conversion rate
5. Report frequently
6. Monitor both the reports and the actions taken
In other words, in order to be bold, decisive and epic, you just have to be practical.
Strategy is the only trend you have to follow this year.
All the rest is just fireworks, burning your precious money.
If you are looking for business results, strategize.
And that's all you need to do!
Note: XPLAIN offers its services in: Digital Strategy and Consulting, Consumer Intelligence, Lead Generation,Reputation Management, Content Marketing