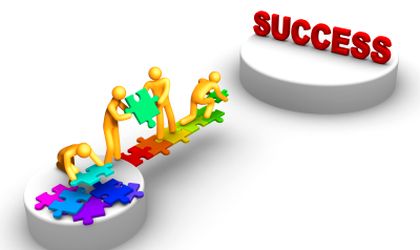 Attracting customers and retaining them on the medium and long term is one of the biggest challenges that a small business can face.
Before starting a business any entrepreneur should identify the right customers to buy his or her products. After that, it is about attracting, retaining and making them come back to you. So do you know who your customer is? This is the most general question an entrepreneur should consider when he or she puts a business plan down on paper.
Defining the best customers and finding them, then seeking the right ways to attract them and make them loyal to your brand are the key elements in the success of any business. It is obvious that your best customer will be the one for whom your products or services are without doubt his or her best choice. International specialists say that whether you are a small business or a large multinational there is always a way to identify your ideal customer, following the well known 80-20 principle. You should focus on the 20 percent of your total customers who make your business develop faster and grow in a meaningful way, while the other 80 percent will not build your enterprise. Developing an offer that can be delivered, having high standards for customer relationships and delivering on each promise you make are crucial for attracting new customers.
As Carmen Baboian, designer at Petalia, a studio specialized in floral creation, says, there are several steps that a small business needs to follow in order to attract customers:
Business plan. Having a well done and detailed business plan is helpful for small companies in their attempt to attract their customers.
New products. Creating and launching new products on the market helps you to enlarge your customer base.
Hard promotion. Promote your products or services via as many media and channels as possible, such as public relations campaigns, social media, events, different partnerships and workshops.
Be the best. Never disappoint your customer and always stick to your initial thinking and strategy.
Make your customers loyal.
Create a need for the product or service you offer on the market.
Disappointing your customer is considered by both specialists and entrepreneurs with experience as one of the worst mistakes a businessperson can make. "It is very important not to let your customers down and to always pay them the same attention, surprise them and meet their needs so that you will always be there with your products," adds Baboian. It is well known that any small business has its own specifics, from the field of activity and customers targeted to the market niche and means of promotion. As a result, the way small businesses find, attract and keep their customers loyal is different.
High quality and seriousness along with a positive attitude towards customers are some ways small businesses can get customers. And this is more important as word of mouth has a crucial impact for a small enterprise when it comes to maintaining existing customers or even attracting potential new ones.
For example, for some types of businesses, networking is the key to finding new customers, while creating buzz about the products or services could be the best source of customers for others. Last but not least, while cutting prices can be one of the most powerful ways to attract customers for any type of retailers, it could cause significant problems for other businesses, such as those known for a respected, trustworthy and serious brand positioned at the high end of the market.
Anda Sebesi