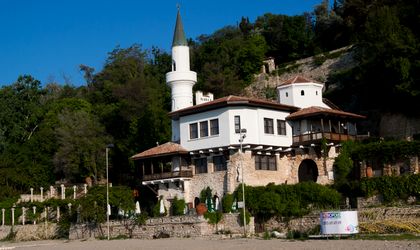 This is what Queen Marie of Romania called her Black Sea summer residence in the small town of Balchik, now part of Bulgaria. The white villa with its minaret is the focal point of a unique architectural ensemble of landscaped gardens, Greek columns and guesthouses, which envelopes the visitor in harmonious serenity.
By Anca Ionita
The elegant simplicity of the architecture and the interior decoration of the Quiet Nest (the "Tenha Juvah" in Turkish) as well as the entire ensemble is perhaps the most powerful example of Queen Marie's talent for combining the different elements of Turkish, Romanian, Greek and Bulgarian influences, which peacefully cohabit in this high-cliff port on the southern border of the country, in a new style that equally emphasized each one's uniqueness and togetherness.
Italian architects Augustino and Amerigo and Swiss landscape gardener Jules Jany started the construction of the compound around 1925-1926, with several others involved until the completion of the works in 1936, including Romanian architects Emil Gunes and Henriette Delavrancea.
Queen Marie's villa, with its white walls, including elements of Mediterranean, Moorish, Bulgarian and Neo-Romanian architecture, is the blue-print for this new style that emerged from the Queen's life philosophy rooted in the Baha'i Faith, which she discovered in the 1920s. "More than ever today when the world is facing such a crisis of bewilderment and unrest, must we stand firm in Faith, seeking that which binds together instead of tearing asunder," she wrote in 1936.
The ancient Greek colony of Dionysopolis dwells in the Greek colonnade garden on one of the terraces facing the sea. The Byzantine age is caught in the Stella Maris Chapel where the Queen wished to be buried (her actual tomb is in the Curtea de Arges Monastery). The Ottoman influence is present in the Garden of Allah, decorated with ancient pottery, stone benches and 80-year-old cactuses. The extended botanical garden in the middle of the compound, under the jurisdiction of SofiaUniversity since 1955, has more than 3,000 species of plants.
The idea of unity that trespasses geographical borders and time is represented by the "Path of the Centuries" in Alexander's Garden. In his blog, "Romania altfel", Prince Radu of Romania wrote in 2009 about the historical moment of laying the 21st-century stone that completed the path: "In Queen Marie's residence in Balchik there is a green area called 'Alexander's Garden'. In it, a path runs beside a series of 19 millstones. Each of them represents the symbol of a century of the new era of Mankind. The Queen used to call it the 'Path of the Centuries'. At the end of the path, the last stone, witness of the 20th century, waited for its century to pass." 
For tourist information visit: www.dvoreca.com
anca.ionita@business-review.ro