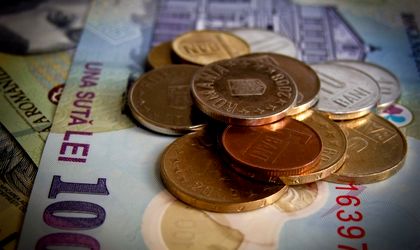 The average monthly total income for the third quarter of 2015 was RON 2,713 (EUR 599) per household and RON 1,022 (EUR 225) per person, according to recent data from the National Institute of Statistics (INS), increasing from the RON 2655 (EUR 586) and RON 997 (EUR 220) values of the previous quarter, respectively.
The average monthly total level of expenditure also increased slightly, going from RON 2,314 (EUR 511) per household in the second quarter of 2015 to RON 2,351 (EUR 519) and from RON 869 (EUR 192) per person to RON 886 (EUR 195), said INS. The total level of expenditure in the third quarter represented 86.7 percent of the total income level, according to the institute.
Money income in the third quarter of 2015 amounted, on average, to RON 2,430 (EUR 536) monthly per household (RON 916 per person), while income in kind was RON 283 (EUR 62) monthly per household (RON 107 per person), according to the INS report. Wages and other associated income represented the biggest chunk of income (57.6 percent of the total household income), followed by income from social security benefits (23.5 percent), from agriculture (3.4 percent), from non-agricultural independent activities (2.5 percent) and income from properties and the sale of household assets (1.2 percent), according to INS. Income in kind also represents a significant percentage at 10.4 percent, specifically the equivalent value of consumption of agri-food products from own resources (9.1 percent), said INS, with the mention that residence area has a bearing on income levels. The monthly average per person in the urban environment was RON 1,209.56 (EUR 267.24), while in the rural environment it was RON 804.17 (EUR 177).
When it comes to expenditure, the main destinations for Romanian household spending are on food and non-food goods and services (72.0 percent), transfers towards the public and private administration and to the social insurance budgets, such as taxes and contributions (19.6 percent), and also expenses used to cover needs related to household production such as animal foodstuffs, planting seeds, vet services, etc. (3.9 percent), according to the INS report. Investment expenditure lies low in the list of priorities for Romanian households at only 0.7 percent, meaning that Romanians do not use their income to purchase house, lands and household production equipment, shares, etc., as detailed by INS.
The report also shows that the total consumption expenditure for the third quarter of 2015 is made up primarily of foodstuffs and non-alcoholic drinks (37.6 percent), followed by expenses on household utilities (16.6 percent).
 Andreea Tint