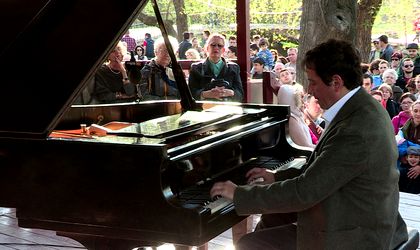 For three years now, the Traveling Piano project has enchanted the public nationwide with astonishing concerts, bringing the piano that accompanied maestro Horia Mihail to another local community that needs it each year.
Oana Vasiliu
Where did the idea of ​​the Traveling Piano come from?
At the beginning of 2011, I found out that in the basement of the Romanian Radio Society (RRS) there were some concert pianos that were no longer being used, so the RRS team and I decided to bring them back to life. At the same time, I knew that many major cities in Romania did not have concert pianos, and the instruments "discovered" at RRS could reinvigorate many theaters in the country. This is how the story began. In 2011 we celebrated the great pianist and composer Franz Liszt, one of the leading figures of the 19th century, the "inventor" of the solo piano recital. He traveled around ​​Romania with his own piano, between 1846 and 1847. As a result of Liszt's tour, the idea of the ​​traveling piano was born.
How would you describe the impact of the Traveling Piano nationwide tour?
Like any other brand, the project started with baby steps. In 2011, I was known in Romania as a partner in chamber groups or an accompanist. Although I returned to Romania in 2002, I avoided singing alone on stage, both for convenience and because the music room does not have many lovers. Over the project's three seasons, we have seen an impressive increase in the number of spectators at the concerts. We are being contacted – both Radio Romania Cultural and me – by many communities who want to be part of the tour, both for concerts and to be the piano's final destination. I can only be happy that this process has taken shape and the interest is growing.
What has changed from one edition to another?
In terms of media, the buzz around the Traveling Piano has grown exponentially. The number of sponsors has remained the same, making 2013 the most difficult year ever. However, we have managed to maintain relations with some partners and covered almost the entire tour budget.
How do businesspeople and companies react when it comes to supporting culture?
Nowadays, it is very difficult to obtain funding for various cultural projects, mostly because governments are increasingly stingy. Attracting sponsorship for culture is a vast domain, which is very little explored in Romania, although it is an indispensable parameter for both artists and the public.
Another problem is that "fashionable" music attracts more listeners than a classical music concert, therefore they have greater sponsorship. But the trick to obtaining funding has been discovered by orchestras such as the Boston Symphony and Berlin Philharmonic, which use the mass media to promote themselves and their concerts. This is what I am trying to do in Romania and, so far, it has worked quite well. In seven years, I have managed to complete no fewer than 17 classical music tours with my partners.
Why have you chosen to donate the piano from the festival's third run to Tulcea municipality?
Tulcea was chosen by Oltea Parau Serban, the artistic director of the Orchestras and Choirs of Radio Romania and also the Radio Romania Cultural editor-in-chief, mainly because this city has many young musicians and a very active music school.
Will the Traveling Piano continue in 2014?
Sure, I'd like this project to run forever. It is an incredible experience which depends both on me and also on those who support me.
What other projects do you have in store this year?
Firstly and most importantly, we must continue what we have started. Next this year will be The Golden Flute with Ion Bogdan Stefanescu, various performances at home and abroad in different cities, and from autumn, The Violin's Duel with Gabriel Croitoru and Liviu Prunaru. Also, I hope to find funding for an extremely interesting project, George Enescu's Violin in Villages.
Oana Vasiliu