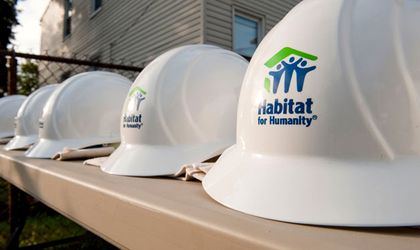 Mario DeMezzo, national director of Habitat for Humanity Romania, tells Business Review about the importance of adequate housing conditions in society and the challenges Romania faces to narrow the gap with CEE countries in terms of accommodation.
Anda Sebesi
Big Build is an accelerated construction and volunteering event through which Habitat for Humanity Romania celebrates World Habitat Day. What can you tell us about the 2015 run?
We are celebrating World Habitat Day for the seventh consecutive year through Big Build, an accelerated build and a great opportunity both to engage hundreds of volunteers and raise awareness about the need for housing in Romania. In only five days, between October 5 and 9, we will build eight houses, along with 200 volunteers from the US, Northern Ireland and Slovakia, plus Romanian corporate volunteers, politicians and VIPs. Eight low-income families will have a decent and healthy home in which to raise their children.
For volunteers there is no better reward than to actually build a house in five days. You come to the site on the first day, and there is nothing but the slab. On the fifth day, the family is ready to move into the house. In your heart you go from "I can never do this" to "Unbelievable, I did it!" You take that feeling with you for the rest of your life. This Big Build is possible with the support of both our volunteers who travel thousands of kilometers to work on our construction site in Bacau and companies such as Dedeman, Tondach, Kronospan, Teraplast, AkzoNobel, MTI-Saint Gobain Group and Fiskars.
How many families live in poor conditions in Romania now and how does Habitat for Humanity Romania try to help them?
At present 5 million Romanians live in poverty, in dilapidated houses which endanger their health and education. We strongly believe that a decent house can break the cycle of poverty. This is why for 19 years we have been building and renovating homes for people in need. In 2005, we initiated an extensive prevention and disaster risk reduction and response program. We train people from vulnerable communities to take proper action in the event of natural disasters and together with the General Office for Urgent Situations (IGSU) and local volunteers we also intervene immediately after such a disaster takes place.
Clive Rainy, the first Habitat for Humanity volunteer worldwide, will participate in this year's Big Build in Romania. What can you tell us about him?
Clive is not a role model because he is the first Habitat for Humanity volunteer worldwide. He is an inspiration because 37 years later he is still dedicated to Habitat's mission. We should learn from his faithfulness and lifetime commitment. When you really believe in a cause, you should never give up supporting it. If you are faithful to the cause you believe in, each day you reach out to others you make a better world, according to your vision. If more of us followed our hearts and passions, the whole world would be a better place.
What are the main projects that Habitat for Humanity is developing in Romania now?
We are working to improve housing conditions through affiliates in five counties: Bihor, Cluj, Suceava, Bacau and Constanta. We build new homes and renovate houses for low-income families, and develop energy efficiency training and disaster risk reduction and response campaigns. The national office in Bucharest helps families in need all over the country. We believe that better education means better housing conditions on the long term. Therefore we get involved in building and renovating schools and community centers.
What are your main results in Romania?
We have helped 36,000 people to have a decent home or improve their housing conditions so far. The other 5 million people living in poverty find hope in our beneficiaries' changed lives. We couldn't have managed to support so many people without our 28,000 volunteers from all over the globe. However, my challenge to us as a nation will be to care more for the people around us. In 19 years we have had 18,000 foreign volunteers come and help eradicate substandard housing in Romania. In the next 20 years, I would like to see 180,000, 1.8 million or, why not, 18 million Romanian volunteers help the people around them.
How big do you consider the gap between Romania and other CEE countries in terms of decent housing conditions?
Housing outcomes in Central and South East Europe are more favorable in the countries that joined the European Union in 2004 – the Czech Republic, Hungary, Poland, Slovenia and the Slovak Republic – while Romania and Bulgaria face significantly worse conditions, alongside the non-EU countries in the region. If we take Romania's example, 41.2 percent of people don't have access to running water and sanitation, 55.3 percent live in overcrowded conditions and 28.6 percent face severe damage to their homes. Unfortunately, in many rural areas we are speaking about 18th century living conditions. The inadequate housing conditions affect people's physical, emotional and mental health and also their ability to contribute positively to society.
When do you think Romania will close this gap and what should be done by the Romanian authorities and society as a whole?
The first thing we need to do is to put together a coherent national strategy on housing policies that reflects the social realities. We need to set a time to start implementing that strategy. The authorities have not done that for the past 25 years and if we don't do it we risk having another 25 years pass by with no changes. Habitat for Humanity Romania specialists offer their experience and their availability to work closely with anybody interested in putting together a national strategy. It will take time – maybe another 25 years – but we dream of a Romania where families have their human dignity, self-esteem and social respect back.