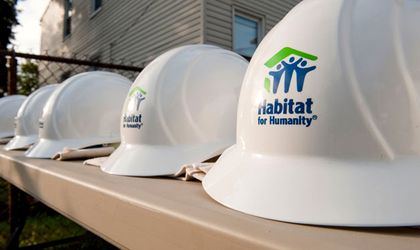 Holcim Romania will donate in 2016 a total of 190,000 kg of cement, equivalent to 4,760 sacks of 40 kg, for constructions and renovations projects carried out by the Habitat for Humanity Romania organization, according to a press release from Holcim.
The cement will go to six projects throughout the country in order to support low-income families or for the improvement of certain river channels meant to protect houses.
Of the total number of cement sacks, 520 will be distributed to Moinesti, Bacau country, for the construction of two duplexes for four families. A further 1,000 sacks will be sent to Ploiesti, Prahova county, for renovating a building with the purpose of transforming it into a vocational training center and the construction of an apartment building with 15 units for persons from vulnerable goods.
Another 600 sacks will go to localities in Moldova, in areas exposed to floods, in order to consolidate those elements necessary for protection against floods. Of the remaining cement sacks, 280 will go into the Gorj county, for a family with 8 children whose house is in a state of advanced degradation. The last 160 sacks will go to the Olt, Dolj and Gorj counties to rehabilitate the houses of 260 extremely poor families and to renovate two schools from vulnerable communities, according to the Holcim press release.
Habitat for Humanity is a non-profit organization present in 70 countries, and has been present in Romania for 20 years.
Holcim (Romania) S.A. owns two cement factories in Campulung and Alesd, a grinding plant and a cement terminal in Turda, 14 environmentally-friendly plants, three aggregate plants, two plants for road binders and a cement terminal in Bucharest, and approximately 800 employees in Romania.
Andreea Tint