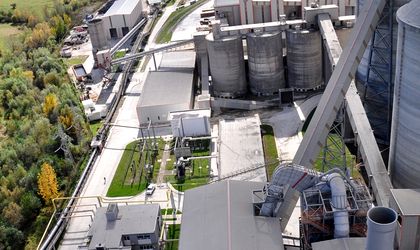 The local subsidiary of Swiss Group Holcim saw cement sales drop by one percentage point (volume) in the first semester of this year y-o-y, while prices have gone up by 1.2 percent, according to Mediafax.
Aggregates sales increased by 19.8 percent in volume and prices by 14.3 percent.
Elsewhere in Europe the cement manufacturer's sales have dropped more sharply, overall Holcim's cement sales on the continent decreasing by 6.3 percent in volume due to the debt crisis says the company. The largest drops were reported in Spain (32.2 percent), Bulgaria (30.1 percent) and Italy (29.9 percent).
The Romanian cement market had a rough start to 2012, due to bad weather and the overall market conditions, previously stated Daniel Bach, general director of Holcim Romania. Last year the market is estimated to have grown by about 5 percent against 2010.
"I would be happy if we close 2012 with the same results as last year," he explained. Bach disclosed that in the first quarter of this year the company saw volumes go down by 6.7 percent.
After the cement producer managed to grow its business by about 13 percent last year, to reach EUR 222 million, Bach says the best case scenario for this year would be an increase of about 2 to 3 percent. This mostly depends on the government resuming infrastructure projects, as the residential sector is not expected to recover in the next two years.
Worldwide, Holcim increased its consolidated sales of cement fueled by the emerging markets and North America in the first half of 2012. In the first semester of this year, the group's consolidated net sales increased by 2.1 percent to CHF 10.4 billion while operating EBITDA rose by 1.9 percent to CHF 1.9 billion.
Holcim has a total production capacity of 6.1 million tons per year in Romania. After investing EUR 700 million locally between 1997 and 2011, Holcim Romania has an investment budget of about EUR 25 million this year which will mainly be directed towards the company's two cement factories.
Simona Bazavan