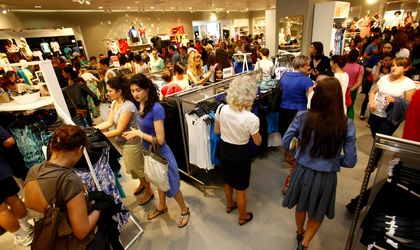 Sales of Swedish clothing retailer Hennes & Mauritz (H&M) in Romania amounted to SEK 826 million (EUR 89.65 million) for the period December  – May (first financial semester), according to company data. This was up by half compared to the same period last year. Calculated in the national currency the increase was of about 42 percent.
In the period March 1 – May 31 (second fiscal quarter), sales increased by 47 percent to SEK 301 million (EUR 49 million) and 40 percent in the national currency. During this period the retailer opened three new stores in Romania reaching a total network of 41 outlets. In addition to Romania the company also opened new stores in Poland, Portugal, the Czech Republic, Bulgaria, Slovakia, Hungary and Belgium during this period.
At group level, H&M reported total sales of SEK 100 billion (EUR 10.8 billion) in the first semester.
The first local H&M store was opened in March in 2011 in AFI Palace Cotroceni in Bucharest. Since then the retailer has expanded countrywide to cities such as Brasov, Cluj, Timisoara, Oradea, Constanta, Arad, Craiova, Braila, Iasi, Suceava and Sibiu.
Simona Bazavan