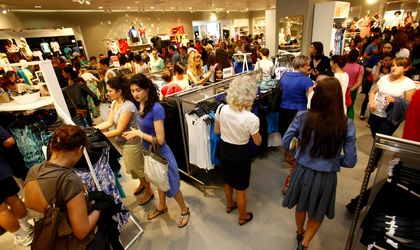 H&M Romania (Hennes & Mauritz) sales rose in the first quarter of the current fiscal year (Dember 2013 – May 2014) by 34 percent, to EUR 61 million, according to Mediafax.
In RON, H&M sales are up 30 percent, including VAT.
During this time, the Swedish retialer opened 7 new stores and reached a network of 35 units on the local market, according to a press release from the company.
In the second quarter of the fiscal year, March – May 2014, H&M Romania registered an 36 percent increase of sales to EUR 33.4 million. Five new stores were opened during this time.
In 2013, H&M sales crossed the EUR 100 million threshold and the retailer obtained EUR 5.4 million in net profit, up 52 percent.
At a group level, sales for the first fiscal year grew 17 percent, to EUR 9.7 billion.