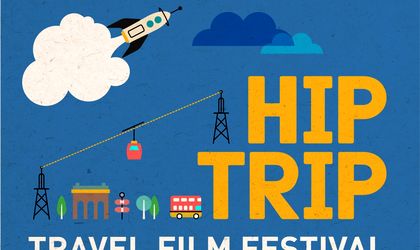 Five Romanian short films and two documentaries were included in the selection of HipTrip Travel Film Festival this year. Now on its second edition, the festival continues its mission to inspire and encourage viewers to transform from tourists into travellers and explorers. A block of short films by and about journeys will run Saturday, October 10 at Cinema Eforie, starting at 17:00.
Travel to town, a short film directed by Corneliu Porumboiu in 2003, with Ion Sapdaru and Constantin Dita, tells the story of a teacher who leaves the countryside to go to the city in full celebration. Another short speaking about travel is Millo Simulov's Hello Kitty. In this case, the story is happening at the seaside. Andrei Rautu's characters in Ela, Panda and Madam are also heading toward the seaside on their trip. Another HipTrip participants will be Emanuel Parvu's Chicken, fries and a Coke, a movie awarded Best Short Film in 2012 at the Anonymous International Film Festival. Adrian Sitaru's Trip, the story of a child who steals a video camera and starts recording his daily life, is also an award-winning short film.
Florin Barbu, film critic, says: "We chose these five shorts because obviously they have something in common with our festival's profile. Thus, all of them tell the story of characters seeking liberation and escape from everything that surrounds them swallows them. We hope you will enjoy watching the (again) be curious why their filmmakers felt the need to escape. Don't we all try to do it at one time?"
The second edition of HipTrip Travel Film Festival will premiere To the north, on Ural and Kamaz traces directed by George Oprea, a documentary about the first Romanian expedition in the far north of Siberia. A trip of nearly 30,000 kilometres, taken by eight men in 55 days at temperatures of up to -54 degrees Celsius.
"In March 2012 we went to far eastern Siberia, crossing the Road of Bones, and then we got the idea to cross the frozen north of Siberia. This expedition started from a simple indicator that I saw in a small village of farmers and reindeer, some 200 km north of Kolyma, the Road of Bones to Magadan, an indicator that pointed to a locality beyond the North Pole Circle. We thought we had reached the end of the world, but we realized that even more to the north of this place were places, people, life. So our attention fell on Tiksi, one of the northernmost cities on Earth. We travelled in winter, which is the only season during which you can travel on a land otherwise hostile and marshy. You can only walk on the frozen surface of the Arctic Ocean or rivers, the only land routes occasionally practiced by Kamaz and Ural drivers, serving the small settlements there. We chose Siberia because it is so clean and pure, untouched by man, it is practically a "country" where I would go back in every season," says Mihai Tuca, one of the expedition members. The screening will be followed by a Q&A session with the expedition.
Romania will be represented also by the documentary Explorer, which follows along the lifeline of Emil Racovita, pioneering research on Antarctica life, and tells the story of Belgica (1897-1899) – the first scientific expedition in Antarctica, along with Roald Amundsen, Frederick Cook and captain Adrien de Gerlache.
The second edition of HipTrip Travel Film Festival will take place on 8-11 October at Cinema Union and Cinema Eforie and will bring this year 25 films from 10 countries including India, UK, USA, Australia, Spain Germany, Siberia, Canada, Iran and Romania.
Travel HipTrip Travel Film Festival is a project of the OVI Foundation.
Natalia Martian