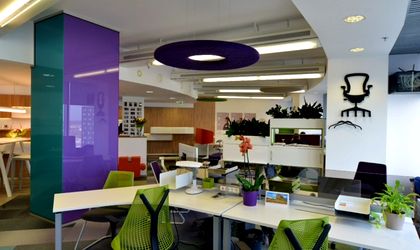 Workspace Studio has recently opened in Bucharest the first Herman Miller showroom in Sky Tower office building. Basically, the worldwide known chairs can be seen and tested within this showroom in order to decide what is best for you and your employees. For those who visit MOMA Museum online or offline, even the outstanding Aeron chair is available in there.
"Basically, a complete refurbishment of an office space come once in five years, usually when the location is changed. In terms of costs, companies invest from EUR 100-300 per sqm, but most of them want tailor-made solutions for everything, from lighting to the furniture," explained Horatiu Didea, the managing partner of Workspace Studio to BR.
"Tomorrow's offices need to attract, nurture, enable and retain the talent that will drive innovation and execution, and bring an organisation's strategy to life. Through an optimised variety of settings, a Living Office will give individuals something that cannot be had in any other place: a spiritual connection to work and colleagues; a platform for increased productivity and effectiveness and a more naturally human experience of interaction and creation," is the company's promise, as stated on their official website and also during the press conference by the Workspace Studio officials.
Asked by BR why they decided to open up a showroom in Bucharest now, Bertie van Wyk, workplace specialist at Herman Miller, explained that Romania is now a key market. "If we look up from this window (Sky Tower, 18th floor), we can see mostly office buildings and construction sites doing more office buildings. We are the guys that we create spaces for people. We are the guys who create places where people want to go to work, where people get the best of them in some wonderful place to be. When you look up on this same window, you can see the names, the logos, most of them are our international clients and they have to know that we are here, in Bucharest, and we are going to offer them the same quality as everywhere in the world".
Currently, the company designed the concept of the new Impact Hub from Cluj Napoca, which was opened at the beginning of this year. Besides Herman Miller's products, Workspace Studio also works with brands such as Wearwell, the ergonomic carpets world producer, Blueair AB, the leader of air purifier, Mey Gmbh, the producer of industrial chairs or Buzzispace, the European leader for acoustic furniture and design.
The new showroom cost around EUR 500.000, while the representatives of Herman Miller have supported part of this amount. Workspace Studio's turnover was EUR 1 million in 2015, and the company expects to grow up to EUR 1.5 million this year.
Oana Vasiliu