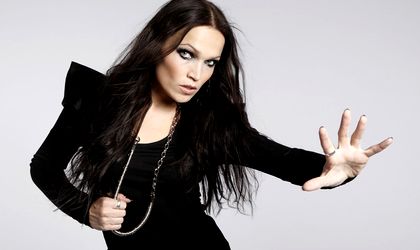 The queen of heavy rock is coming to Bucharest on November 4, at Sala Palatului. Tarja Turunen's tour was initially to promote her 2013 studio album, Colours in the Dark. A second version, called Left in the Dark, has subsequently been released. The Finnish singer-songwriter, a light lyric soprano with a three-octave vocal range, was previously lead vocalist of the Finnish symphonic metal band Nightwish, which she co-founded in 1996 and helped pioneer so-called "opera metal". Since 2006 she has performed solo.
On her official website, the album presented in her tour is described as "In turns grand, playful, aggressive, joyous, even unsettling, 'Colours in the Dark' was, like the Holy festival that inspired its motif, a celebration: a kaleidoscopic burst of elements coming together against a background of heavy undertones. Tarja embraced the chaotic with a palette of contrasts – electronic and industrial ochres, theatrical and progressive highlights, shadows of nu-metal and 80's rock and roll, and a hint of the Eastern – all were held together by the warm, richly hued timbre of her signature vocals. The result was a journey through the chromatic spectrum. Without the anchor of a structured path, Tarja was able to explore the deeper waters. 'Colours in the Dark' was the boat that took her there. In its first week of release, 'Colours…' charted at a vibrant #5 in Finland and Russia, and #6 in Germany. The world tour was to span the next few years, but was certainly not the only thing Tarja had in store for the foreseeable future – as usual, her disproportionately large sleeves were full of surprises…"
Tickets are priced between RON 90 and RON 245.
Oana Vasiliu