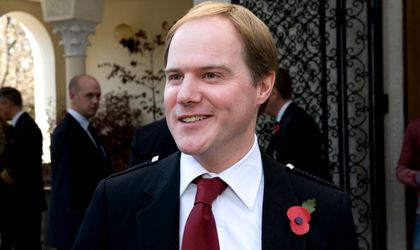 UK Ambassador to Romania Martin Harris stated that the annual trade growth rate between Romania and the UK stands at 16 percent, which is a significant level in times of recession.
"I think trade relations is a field to develop in the futures. The fact is that my mandate had a very positive tendency and an average annual growth of 16 percent in trade which is significant in a period of recession. And I am convinced that we can encourage trade relations between UK and Romania and, unfortunately up until now, opportunities in Romania haven't been understood very well in the UK", Harris stated on a Romanian talkshow.
The ambassador highlighted especially energy and IT.
"We have lots of British companies active in this field. In fact Romania and UK share many similarities in the energy sector. We also have gas, offshore, nuclear and shale gas energy sources and we recently signed a strategic partnership between UK and Romania in energy. I am convinced we can encourage companies and investors to approach this sector", the ambassador said.
According to him, Romania presents a special attraction in the IT sector.
"It is a field that deveoped very quickly in these 4 years and we have many British firms that hired hundreds of people: in Iasi, Cluj, Bucuresti, because here in Romania we have a very qualified work force and in fact the whole country turned into a factory for websites in Eurpe. British firms come here to make websites for banks, for the City, for footfall clubs. In a unique digital market, Romania ha a very important advantage. I am convinced that British investors will continue to do business in this sector", Harris said.