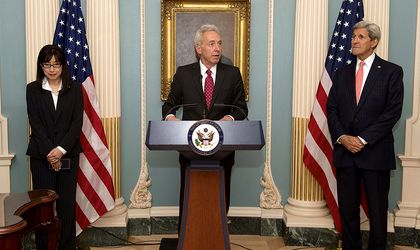 Hans Klemm was sworn in as US ambassador to Romania in a ceremony that took place at the US Department of State, the Bucharest US Embassy announced. Attending the ceremony conducted by US secretary of state John Kerry, was Romania's designated ambassador to the US, George Cristian Maior.
Both the state secretary and the newly installed ambassador reiterated the excellent relationship between our two countries as well as their cooperation in promoting regional and global stability, while hailing Romania's efforts to root out high-level corruption.
Klemm mentioned that upon taking charge of the embassy in Bucharest, providing assistance in this area will be one of the priorities of his mission.
Hans Klemm was named ambassador to Romania on March 24 by USA President Barack Obama, later being confirmed by vote of the American senate on August 5.
Klemm, diplomat by career, was adviser to the undersecretary for management at the State Department. Earlier, between 2012 and 2015, he was principal assistant secretary in the bureau of human resources at the State Department, and before that he served as the coordinator for rule of law and law enforcement at the Embassy in Kabul, Afghanistan (2010-2012).
Hans Klemm was US ambassador to East Timor from 2007 to 2010 and second-class officer for economic affairs at the American Embassy in Tokyo in 2006-2007. From 2004 to 2006 he was deputy director of the office of career development in the Office of Human Resources.
Between 2000 and 2001, Klemm was deputy director of the office for EU and regional affairs in the Bureau of European and Eurasian Affairs.
He also held varied positions in Germany, Japan, South Korea and Trinidad Tobago, within the State Department.
He is a graduate of the University of Indiana and has a master's degree from Stanford University.
The previous US Ambassador to Romania, Mark Gitenstein, ended his mandate on  December 14, 2012.
Natalia Martian