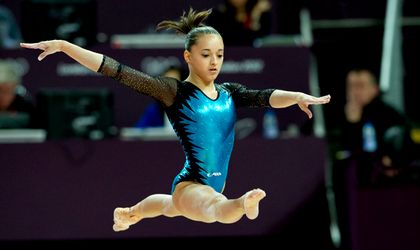 Gymnast Larisa Iordache, a member of the national team that represented Romania in the Olympic Games of London in August this year, came in second in the final for the Piotr Nurowski Award event. She followed swimmer Charlotte Bonnet (France), according to Agerpres newswire.
The distinction was granted by the representatives of the Association of European Olympic Committees (EOC), for the second time since its establishment, within the 41st EOC General Assembly, taking place in Rome at the end of last week. The prize was created to recognize the most valuable young European athlete. Through this merit, EOC wants to encourage young athletes to devote themselves to high performance sports and, at the same time, to be an example for the future generations in terms of adopting a healthy lifestyle, based on the Olympic principles and values.
The five designated finalists included swimmer Ruta Meilutyte (Lithuania), Alpine skier Marco Schwarz (Austria) and gymnast Oleg Stepko (Ukraine).
The Piotr Nurowski Award was created in 2011 in the memory of the Polish Olympic Committee former president, a distinguished representative of the international Olympics, who died in a tragic airplane accident in April 2010.
Photo courtesy of Larisa Iordache's website
Oana Vasiliu