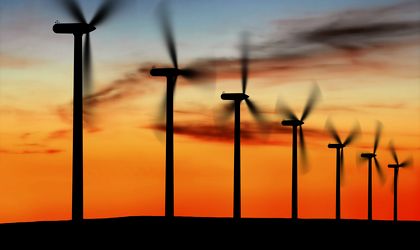 Romania's wind sector is estimated to triple capacity through to 2013, reaching 3,000 MW, with another few thousand MW on paper, but growth in this sector is sustainable and bears no resemblance to the real estate bubble that burst about three years ago, say legal experts and industry players surveyed by BR.
Ovidiu Posirca
The country climbed two positions to tenth place for wind sources in February, ranking alongside Ireland and Poland in the Country Attractiveness Index published by Ernst & Young (E&Y) consultancy.
Transelectrica, the local grid operator, is flooded with projects for wind capacities. This April, there were grid connection contracts for 10,458 MW and technical connection agreements (ATR) for 9,416 MW. Additionally, Transelectrica has received requests for solution studies (technical-economical studies) for wind projects totaling around 15,000 MW.
Boom not bubble
Wind is not becoming a bubble because this would have meant an unfulfilled promise and the increase in capacities to over 1.200 MW this March from 14 MW three years ago doesn't constitute that, according to Ionel David, public affairs director at the Romanian Wind Energy Association (RWEA).
"In wind, things are different from real estate where we have buildings lying unused for years," says David. "It is the most vibrant economic sector in Romania."
Financing wind projects is challenging, so this could prevent a bubble in this industry, according to Valeriu Binig, director of financial advisory services, energy & resources, and corporate finance at Deloitte consultancy.
"There will be fundamental filtration elements and one of them is financing. ANRE (the energy regulator) issues permits only if full financing of the project is approved. Evidence comprises a loan contract, and the financial situation of the investors, if we're talking about utilities," says Binig.
The development of the wind industry in Romania started in 2006, so the current capacity is the result of gradual development supported by European policy, not something happening overnight, says Claudiu Munteanu-Jipescu, partner and head of the energy practice at law firm Salans.
"Unlike the accelerated development in the real estate sector, we should bear in mind that the energy sector is monitored by the regulatory authority ANRE and also by Transelectrica, the system operator, ensuring control of the generation capacity development," says Munteanu-Jipescu.
Financing has currently stopped a potentially unsustainable path developing in the wind sector, and many wind projects were built solely, or with a large portion of, equity, while many others remain "on paper" due to lack of financing, so no project inflation should occur, according to Cosmin Stavaru, partner at law firm Bulboaca & Asociatii.
"Before 2009, banks were lending real estate developers more than 80 percent of construction costs based only on collateral strictly related to the financed project (non-recourse financing). It is much more difficult for wind projects to be financed like this, because the cash-flow projections are less certain and the value the bank can derive in the event of forced enforcement of such collateral is much more uncertain," says Stavaru
A wind bubble could have built up if the support scheme regulated by law 220/2008 had not had clearance from the European Commission three years from its adoption, says Sorin Vladescu, partner and co-head of the energy practice group at law firm Tuca Zbarcea & Asociatii.
"We might witness a crash in the renewable energy in the future if isn't understood that legal instability which would impact the rights of producers that started investment based on the support scheme in the legislation framework in force when the investment was started, risks compromising and discouraging projects in this field," warns Vladescu.
Miruna Suciu, partner at law firm Musat & Asociatii, adds there is a wind bubble only on paper.
"At the level of projects with true realization potential, the development is sustainable, in line with the potential and capacity of the grid to absorb the energy output from different renewable sources," says Suciu.
The renewable industry has also attracted some opportunistic players, some of whom may have been real estate owners, who saw a good opportunity to make some profits, argues Ioana Talnaru, counsel at law firm Clifford Chance Badea.
"However, such cases are more likely the exception than the rule and there are also many serious projects, developed by reputable and experienced industry players and investors, based on thorough technical analysis," says Talnaru.
Ciprian Glodeanu, partner, head of the real estate and renewable energy practice at law firm Wolf Theiss, thinks there is no bubble in wind similar to the real estate one.
"This year I expect to see projects with installed capacity of approximately 500 MW starting operation," predicts Glodeanu.
Transelectrica is talking about the integration of around 3,000 MW of sustainable wind capacities in the national energy system (SEN) and the grid operator has a power reserve of 729 MW to cover the volatility of wind generation. Around EUR 500 million is needed by Transelectrica to upgrade the grid, focusing on transportation lines and power stations.
David of RWEA believes wind capacity may soar to 3,000 MW in 2013 if the renewable law remains unchanged, accounting for almost to EUR 5 billion in the Romanian wind industry. In addition, the 850 MW gas-fired thermal power plant of OMV Petrom will start operations in the second half of this year, which would create room for another 2,000 MW in wind, according to David.
Dispatches from the field
Alfonso Otero Zapata, general manager at Bogaris Romania, says there are a lot of projects being developed (obtaining the permits), but prices are not going up, nor are they for projects already built.
"Since the real estate bubble exploded, investors are very selective and prices are not going up at all. It is a buyer's market," says Zapata.
Bogaris is currently developing seven wind projects in Romania. The most advanced has an installed capacity of 52 MW and is slated to start production in the summer of 2013, following an investment of EUR 75 million. Commissioning for a 72 MW wind park in Constanta County is expected at the end of 2013, following an investment of EUR 110 million. In addition, the company is developing four wind parks in Braila County with a combined capacity of 198 MW. Commission is expected in 2015, following an investment of EUR 300 million.
Meanwhile, Adrian Borotea, corporate affairs director at Czech utility provider CEZ, said that despite the impressive amount of capacity granted connection permits, only 1,000 MW is operational and investors had been waiting for the renewable energy law to become functional. This happened last November and only since then has activity picked up in this field. Borotea says a mixture of decreasing green certificate prices, low electricity consumption and limited export capacities will limit developments to a maximum of 5,000 MW.
CEZ will complete its 600 MW wind parks located in Cogealac and Fantanele (in the Dobrogea area) this year, following a EUR 1.2 billion investment.
Certified green
Wind is granted two green certificates (GC) for every MW generated and distributed to end-consumers through to 2017 and one afterwards. GCs have a floor price of EUR 27 and a ceiling of EUR 55, and the current trading price is close to the maximum. However, estimates are that starting 2015 there will be a surplus of GCs that will drag prices down.
David said a surplus of green certificates appears only when the country quota of green certificates in fulfilled. Electricity suppliers need to acquire annual quotas of electricity from renewable sources or can compensate for it by acquiring the equivalent number of GCs, calculated by combining the mandatory quota of GCs and the electricity output delivered to end-consumers.
The quota set for 2011 was 10 percent and this year increases to 12 percent. However, Romania reached only 3.5 percent last year. "This surplus is likely to occur in 2015 when the renewable energy production quota will be 16 percent. Only then can we talk about a surplus, but the market mechanism will solve this," says David. He doesn't think GCs will be traded at the minimum price.
Zapata of Bogaris said that if there is a surplus of GCs, the price will drop to its minimum, but some producers will not be able to sell their certificates.
"Currently this issue is hampering the financing of projects, as banks cannot predict the price of the GC or whether they are going to be sold at all," says Zapata. He argues that reducing the maximum price for a GC, combined with an increase in the minimum price, would bring more stability for banks and investors.
Binig of Deloitte says it is not currently possible to export the excess GCs, but the statistical changes could be considered in the years to come. Moreover, there isn't a last resort buyer that would acquire the GCs because this would be similar to feed-in tariffs. Stavaru of Bulboaca & Asociatii cites overcompensation and Order no.6/2012 from ANRE as measures that would impact the renewable industry. ANRE is entitled to reduce the period of the supporting scheme and/or the number of GCs granted if the Internal Return Rate (IRR) exceeds by 10 percent the rate of the technological calculations sent to the European Commission for approval. In this case there is overcompensation. ANRE carries out its first analysis this semester which will impact renewable capacities that start generating after 2013.
"As the number of green certificates can change every year, banks will not lend the money for the construction, because they will not be certain what number of GCs the project will obtain," says Zapata.
David says this order has frozen transactions in the wind sector, pointing out that legal unpredictability is lethal in Romania.
"Order 6/2012 should have been expected under the Law 220 umbrella and overcompensation mechanics are detailed by Law 220, so it should not be seen as a novelty, but rather as an assumed risk," says Stavaru. "What seems to generate concern is the prospect of an overcompensation of wind determined already in 2012."
Market players and financing banks are waiting for the report due this June, and a bill amending Law 220 has been forwarded to the Chamber of Deputies. It provides a grace period of overcompensation assessment until 2014.