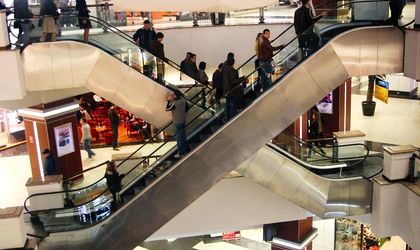 After retail sales went up by 4.3 percent in the first five months of this year, shopping center owners and retailers are confident that the trend will continue or even pick up pace by yearend. As a result, investments in new retail schemes and the opening of new stores are also back on the table.
Simona Bazavan
Retail sales went up by about 7 percent last year and results from the first semester confirm an overall growing trend, say market representatives. "Most fashion retailers reported sales increases of around 10-15 percent, some even of 20 percent,in the first semester, which have boosted their confidence as well," Liana Dumitru, associate director of the retail agency at Colliers International Romania, told BR. While most of this increase was the result of retailers restructuring their local networks over the past years by relocating underperforming stores to better locations, spending on non-food products is going up overall, she added. "We're seeing a slight decrease in the share of revenues allocated to food products in favor of clothing or durable goods in general, and this will continue to reflect positively in these retailers' budgets," she commented.
Improved consumer confidence means retailers too are stepping up expansion plans. "The sustained economic growth, strong increase in consumption and one of the highest levels of consumer confidence in the last few years are likely to push retailers to reconsider their so far cautious expansion plans in Romania. Existing shopping centers with proven good performances are still the main destination of new entrants, due to the relatively limited options in terms of new supply," Adelina Oprita, retail consultantat JLL, told BR.
But that, too, is starting to change after the new retail stock delivered in 2014 fell to a ten-year low. The beginning of the year saw the opening of two large shopping malls, NEPI's Mega Mall in Bucharest and Immochan's Coresi Shopping Resort in Brasov, each with a GLA of about 70,000 sqm. Other developments include the extension of retail schemes such as City Park Constanta, Severin Shopping City and Deva Shopping City, all scheduled to be completed by the end of 2015, according to JLL data. All this means that major retailers now have new options to expand available to them, added Oprita.
"Retailers' interest in expansion remains high, both in Bucharest and outside the capital in large cities such as Brasov, Timisoara and Constanta, where the performance of existing stores is good and most retailers are planning new openings," said Dumitru. Also, retailers that are already present in regional cities and that are targeting middle-income consumers are continuing their expansion in smaller towns, especially as part of developments such as retail parks, she added.
When it comes to expansion, grocery retailers such as Mega Image remain the most active, but fashion retailers too are expanding their networks. H&M has already opened three new units in 2015 and has recently announced that its sales in the first fiscal semester of this year were up by half. Spanish Inditex opened ten new shops in 2015 in Coresi Shopping Resort Brasov and Mega Mall Bucharest after a one-year pause, according to Oprita.
Back in Bucharest, the opening of a new retail project the size of Mega Mall does not significantly impact the city's retail scene, say market representatives. However, while there is room for more malls, shoppers' demands are changing and forcing developers to innovate.
"Bucharest is a big city with a big catchment area. As time spent in traffic is becoming an increasingly important factor when choosing a shopping mall, and whether we shop online or not, we will see more dominant neighborhood shopping centers developed. However, there is a constant need to innovate. Shopping malls themselves need to be increasingly community oriented," commented Anca Damour, director at Carrefour Property Romania, during BR's 14th Realty event this June.
And being relevant is the new name of the game."It is about creating civic centers rather than just outlets with retailers inside," said Georgios Argentopoulos, CEO of Baneasa Developments, at the same event.
Changing consumer patterns
The need to innovate has mostly to do with local shoppers themselves becoming more mature. "The first half of the year marked a clear shift towards maturity. People are spending more wisely. They are looking at value for money instead of expensive brands. They are really focused on getting what they need, which is probably the result of years of crisis," commented Argentopoulos.
Damour also pointed out that customers are becoming increasingly demanding. "This is happening because they know what it is they need and they want certain comfort and services when they go shopping. They are also mindful of the time they need to arrive at a shopping center and easy interior access," she said.
Nevertheless, price remains the main attraction point. "Prices are key and they remain a driver, but what matters is what you offer besides the price," added Damour.
Another trend that is starting to influence the local retail scene is the growing share of online sales. For example, electronics retailers, who makemost of their sales online, had the best start this year, reporting an increase of 15 percent so far. Fashion retailers too are expanding into online, as was the case with H&M this March.
"The biggest difference that we have seen so far is the increase of online sales or a combination between online and offline. Segmentation based on gender or age group alone doesn't make much difference. Online research and online sales are something that we're seeing more and more. And this is influencing both the way we do business and the way retailers do business. We need to adjust to this as this is something that will keep evolving," concluded Argentopoulos.