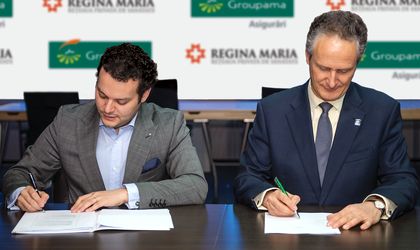 French insurer Groupama Asigurari and private healthcare network Regina Maria launched in Romania a full-coverage medical insurance, which targets the retail corporate and SME segments.
The companies say this is an innovative product that combines the benefits of a healthcare subscription with an insurance policy.
"This product allows us to meet the needs of a segment that our products haven't targeted – the retail and SME segments. The combined expertise of Groupama in individual clients and of our network in corporate clients lead the designing of this medical insurance," said Fady Chreih (left), executive director of Regina Maria.
François Coste, general director of Groupama Asigurari, said: "Our strategy and values that guide our activity and positions the client in the center of our development efforts made the association with Regina Maria to be our best option."
People using the new insurance can be treated within the Regina Maria network, or can opt for healthcare services in other private or public units.
Groupama Asigurari will roll out the new insurance policy starting March. It should be sold across the country by yearend.
Ovidiu Posirca