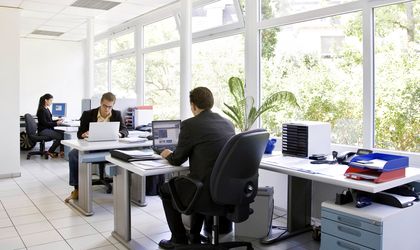 Several changes in the legislation on employees' annual leave and a rise in the minimum gross wage are expected this year, while the state needs to step up large investments to create jobs, say pundits. Meanwhile, salaries are tipped to increase in the private sector, as business leaders anticipate they must give raises and invest more in training to hold onto their highly skilled people.
Otilia Haraga
"The start of infrastructure projects, such as building highways or the large-scale rehabilitation of buildings that are economically inefficient, could employ skilled and unskilled workers in construction, a field that did not fare well in 2014, due to the severe curtailment of public investments in large infrastructure projects," Catalin Micu, managing associate at Zamfirescu Racoti & Partners, told BR.
He suggested the state encourage major investments by adopting fiscal relaxation measures that would facilitate the hiring of the many skilled individuals made redundant when small businesses went bankrupt under economic stress.
"If major infrastructure investment projects could be initiated through the absorption of European funds, encouraging investments in significant businesses through fiscal relaxation measures would require agreement between local and central decision makers, which will be hard to achieve in 2015," he said.
Also planned for this year is a rise in the gross minimum wage, which will increase in two stages. On January 1, the sum increased from RON 900 to RON 975. The second hike will come into effect on July 1, 2015, when it will reach RON 1,050.
"In the second half of 2015, depending on whether quarterly or half-year results indicate potential economic growth, trade unions might reopen the dialogue to take the gross minimum wage to RON 1,200, which the unions have previously spoken in favor of," Micu tells BR.
Among the legislative changes, Micu draws attention to a proposal to alter Law 53/2003 on the Labor Code, which will undergo several amendments.
Annual leave entitlement in direct relation to the calendar year will be modified. The actual duration of leave will be settled in the individual work contract, in accordance with the law and the applicable collective labor contracts.
Also, Micu pointed out that when setting annual leave, periods when the employee is on temporary sick leave, maternity leave, maternal risk days and away from work to take care of a sick child will be treated as working days.
The duration of medical leave will not affect the length of annual leave. Employees will have a right to annual leave even if their medical leave lasts more than an entire calendar year. In this situation, the employer must grant annual leave within 18 months, starting the year after the medical leave.
If employees cannot take the annual leave they were entitled to over a one-year period, employers are obliged to grant the remaining days within 18 months, starting the following year. If an employee misses work without reason or takes unpaid days off, these will be subtracted from their service in employment, explains Micu.
Private sector pay has grown, and this may also happen in the public sector. "The trade unions are calling for the introduction of meal tickets across the public sector. If the Romanian government accepts this fervently supported proposition of the trade unions, public sector workers will earn more," explains Micu.
According to a survey carried out by PwC, salaries in the private sector rose by 4.1 percent last year, while for 2015, companies are planning salary increases of approximately 4 percent.
The highest percentage salary growth of 7 percent was enjoyed by the IT sector, while more modest hikes of 3.2 percent came in the banking and retail sectors.
The survey analyzed salaries and remuneration policies in 166 companies in advertising, banking, FMCG, industrial products, IT&C, leasing, pharmaceuticals, retail and outsourcing.
Of the firms that participated in the survey, 86 percent had or were going to raise salaries while 14 percent had not made any decision or did not intend to raise salaries.
However, one of the main problems for the private sector may not come from the legislators, but from their highly-skilled employees.
According to the latest KPMG survey Economic Pulse 2014, hiring and keeping qualified staff is an increasing problem for companies in Central and Eastern Europe (CEE), which is likely to lead to further salary hikes in 2015.
A poll that included 456 business leaders from eight countries (the Czech Republic, Estonia, Hungary, Latvia, Lithuania, Poland, Romania and Slovakia), found that 69 percent said they planned to raise staff salaries in 2015, with 50 percent of them saying the increase could be up to 5 percent.
The typical rise, as indicated by 37 percent of the interviewed business leaders, will be between 2 percent and 4.9 percent.
The reasons for which these company officials are planning to hike pay vary. For 41 percent of the interviewed leaders, a shortage of qualified staff and pressure from employees are the main drivers for pay raises. Another 28 percent think they should be the result of higher productivity while 25 percent expect to award raises due to improved financial performance.
On average, 50 percent of the surveyed business leaders are not planning any significant staff changes, while 17 percent of them expect headcount to grow by at least 5 to 10 percent.
However, these pressures come against a backdrop of a fairly upbeat economic outlook for 2015 in the eight surveyed CEE countries. Some 52 percent of respondents said they expected their country's GDP to increase by 1.0 to 2.9 percent while only 9 percent predicted a decrease.
A total of 52 percent of the surveyed leaders also believe that inflation in their country will remain under 2 percent.
"The CEE8 economies are following a path of healthy GDP growth and low inflation, but as skilled labor and the ability to export are the key drivers of economic competitiveness, the focus in the surveyed companies is increasingly on the quality of employees," notes Serban Toader, senior partner at KPMG Romania.
Within the CEE8 as a whole, 75 percent of respondents think that the shadow economy is a problem and that avoiding paying taxes by concealing real income is highly detrimental to the economy.
"Most business leaders in the region also support a reduction of social security contributions," added Ramona Jurubita, head of tax at KPMG in Romania. "This would be a way to further strengthen companies' competitiveness. There is also strong support among those surveyed for a simpler means of tax collection and administration, as well as for a flat tax as opposed to a progressive system."
Approximately 81 percent of the surveyed business leaders expect their turnover to grow in 2015, mainly driven by higher staff productivity and more intense marketing efforts.
Also, 69 percent of them are planning investments in 2015-2017, focusing on their home markets and on neighboring countries.
BR asked which positions are the best paid in Romania. According to Micu, at this point, engineering and production roles come with the biggest packages.
"In Romania, people filling these positions receive very competitive salaries that are among the highest in Eastern Europe. An automatics engineer can earn EUR 30,000 a year," he says.
Banking is also a good place to be at the moment since employees in this sector are highly motivated from a financial viewpoint. "For instance, in Romania, the salary of a settlement manager can reach EUR 67,000 per year," adds the managing associate.
The next most lucrative industry probably comes as a surprise to no one. Jobs in IT are among the most highly remunerated in Romania, and salaries have increased by 8 percent. "A Romanian IT director can earn up to EUR 53,000 per year," notes Micu.
Investments that employers have made in the labor force have not ceased to yield results. According to the PwC Saratoga 2014 study, the human capital return on investment (HC ROI) in Romania rose 4 percent last year to 1.30, calculated as the number of monetary units generated by each employee for each monetary unit invested in their salary.
The data used in the PwC Saratoga Romania survey was collected from 80 companies from the pharmaceutical industry, consumer goods, industrial products, retail and financial services.
The profitability of human capital in Romania is 16 percent higher than the European average of 1.12 and also higher than the average for Central and Eastern European countries, which amounts to 1.28, shows the survey.
"While the revenues of Romanian companies did not increase significantly last year and the remuneration costs have been relatively constant, the slight increase in the human capital return on investment compared to last year was generated by the optimization of indirect costs for companies, although we have also noted some remarkable investment in modern information systems such as ERP and CRM programs, that led to an increase in productivity," said Horatiu Cocheci, senior manager, human resources consulting services team leader, at PwC Romania.
Employees in financial services saw their profitability double, from 0.92 percent to 1.97 percent.
However, the pharmaceutical sector was less than fortunate with the return on investment for its employees dropping from 2.01 percent to 1.6 percent.
Further falls were registered for employees working in consumer goods (1.23 versus 1.5) and industrial products (1.11 versus 1.34) and remained at the same level in the retail sector (1.03).
Companies stepped up their investments in employee development. The number of training hours per employee increased year-on-year from 15 in 2013 to 18 in 2014.
On the other hand, the funds allocated to training decreased from EUR 135 in 2013 to EUR 105 in 2014, according to the PwC Saratoga Survey.
"This shows that companies understand the need to invest in their employees' development, but have become more innovative in terms of the specific programs involved, using more cost efficient methods of training such as e-learning platforms and long-distance classes," said Nicoleta Dumitru, manager, human resources consulting services, PwC Romania.
The number of training hours provided by Romanian companies is the same as the European average and a little lower than the CEE average of 19 hours. However, the EUR 105 training cost per employee is lower in Romania than the EUR 210 in Europe and EUR 170 in CEE.
According to data from the National Agency for Labor Force Occupancy (ANOFM), in January more than 2,800 people who benefit from free professional training will participate in the 145 programs organized by the ANOFM county agencies.
Most of the beneficiaries will get their training in Covasna (289 people), Mureş (210 people), Giurgiu (204 people), Vaslui (175) and Neamt (154).
Some 297 people want to be trained as trade workers, 197 as HR inspectors, 164 to learn English, 155 want to become cooks, 137 to be waiters or sell products in food units, 128 to become hairdressers, 124 to be able to process data and 102 to become accountants.
However, there are cases when a certain company is unable to find staff with the necessary skills to run its activity. In this case, the only viable option is to train the potential employees in-house. "The flaws of the professional education system in Romania and its impotence in shaping young graduates who are capable of working efficiently and productively have prompted companies to implement their own personnel training systems, when faced with the impossibility of bringing on board productive and qualified workers," says Micu.
He explained that the investments those companies make in training the candidates are recovered when the potential employees sign an addendum to the individual labor contract in which they commit not to resign from the organization for a certain period of time.
"The main beneficiaries of these qualification and training programs are the employees themselves, who, apart from getting a job, also obtain the necessary qualifications to get another role on the market, if the employer who invested in their professional training can no longer offer them the position," explains Micu.