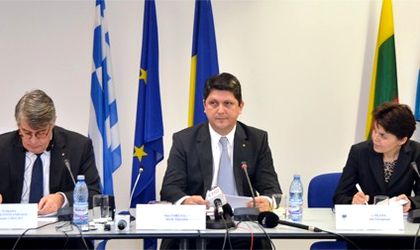 Grigorios Vassiloconstandakis, Greek Ambassador to Romania, said on Wednesday that growth, youth employment and cohesion are some of the main priorities assumed by Greece, which took over the rotating presidency of the EU for six months.
This is the fifth time that Greece holds the presidency of the EU and next in line is Italy, which will take over fromJuly 1.
"We will maintain the same progress rhythm introduced during the Lithuanian presidency," said the Greek ambassador during an inaugural event in Bucharest.
Romanian foreign affairs minister Titus Corlatean commented that the efficient management of the economic crisis, further European integration and stronger EU at a global level, are some of the challenges faced by the Greek presidency.
"The complex situation at a European level was speculated by a number of movements of a xenophobic, populist or anti-European nature and by political parties that promoted, more and more insistently, an emotional rhetoric playing on fears and stereotypes deprived of any grounds. If Europe fails to meet the expectations of its citizens, those parties might become an important presence at the European decision-making level, after the European elections in May 2014," said the minister.
Ovidiu Posirca