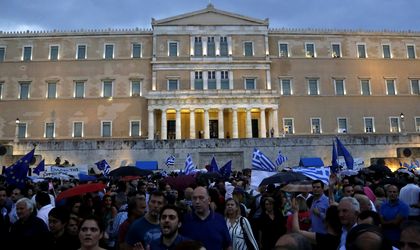 With total debt of over EUR 320 billion, of which 65 percent is to Eurozone and the IMF and 8.7 percent to the European Central Bank (ECB), Greece was teetering on the edge of bankruptcy and default before a last-minute agreement by EU leaders. While member states and international financial institutions try to find a way to avoid a so-called "Grexit", Greece is being pressed to undertake deep economic reform.
Anda Sebesi
[This is part two of a longer story. Part one can be found here]
How bad are things for Greece's pension fund?
Greece has worked to reform its pension system over the last few years. In 2011, it was discovered that 1,473 people had received pensions totaling millions of dollars – despite being dead. Reforms and tighter spending controls in recent years had also led to improvements, with Greece spending 2 percent less of its GDP on pensions in 2014 than 2012. But pensions have remained one of the main obstacles in negotiations between creditors and the Greek government in recent months. Before January's election, Tsipras promised not to cut pensions again. According to the BBC, quoting Greece's PM, the amount of money held in pension funds has dropped significantly – down EUR 25 billion in the last five years. In addition, more than a fifth of Greece's population are pensioners. Only two countries in Europe have a higher percentage. The BBC also reported that youth unemployment stood at 49.7 percent – so pension funds are not receiving enough new contributions from the working population. In 2012, the last year for when statistics are available, Greece spent 17.5 percent of its GDP on pensions, compared to 7.3 percent in Ireland.
Reform list
The agreement to save the Greek economy hammered out at the recent Eurozone summit forces Greece to rapidly adopt some vital reforms that the local authorities have delayed putting into practice. They also need to accept meticulous monitoring from international creditors. Nineteen members of the Eurozone agreed that in addition to the aid offered through the European Financial Stability Mechanism (ESM), Greece must appeal to the IMF for technical and financial assistance.
In addition, the Greek government had a long list of measures it had to take by mid-July, such as increasing VAT, adopting the legal framework for pension system reform and creating a fiscal authority. In addition it was obliged to adopt the civil procedure code by July 22 and transpose the directive on the restructuring and dissolution of credit institutions into Greek legislation. Then, Eurozone governors could mandate the ESM, European Commission (EC) and ECB to negotiate a new memorandum of understanding that would include the terms of a third financial assistance program.
In addition, the latest reforms proposed by the Greek government must be consolidated and completed with measures such as applying a zero deficit provision, the privatization of the electricity supplier and modernization of the collective negotiation system. Meanwhile, Tsipras agreed to create a fund to which all "valuable assets" to be privatized should be transferred. The fund will be set up in Greece and managed by the Greek authorities under the monitoring of European institutions. The financial resources generated by the sale of these assets will be used to repay the new credit supplied through the ESM, up to EUR 50 billion. In addition, all the legal proposals for the relevant fields should be discussed with the European institutions before being sent to the Greek Parliament.
In exchange for all these economic measures, the European partners accepted that Greece's financial needs are between EUR 82 and 86 billion, and approved urgent credit of EUR 7 billion in addition to EUR 5 billion. Pundits say that the European partners are open to considering additional measures but have ruled out another cancellation of Greece's external debts. In order to support Greek economic growth and job creation, the European Commission will assist the Greek government in the next three to five years in order to use the EUR 35 billion of European funds effectively.
Erste Group analysts say that the Greek crisis doesn't pose a significant economic risk to Central and Eastern European countries. "Their exports to Greece represent about 0.1 and 0.5 percent of GDP. As for Romania, the exports-GDP ratio is just 0.5 percent. In addition, the Romanian banking system is very liquid and well capitalized," they say.