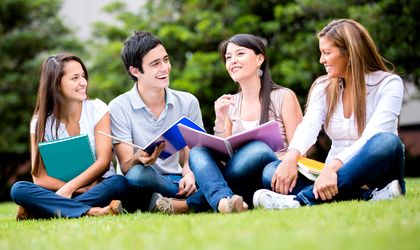 Starting next year, Romanian students can receive financing for post-graduate studies in Great Britain, granted by the British Government and the Department of Business Innovation.
The loans will be granted starting the upcoming university year 2016-2017, according to a press release of IntegralEdu Romania.
This applies to Romanian students who are in their final year at Romanian universities as well as other EU member states.  
Until now, they could only apply for financing only for their university studies.
According to IntegralEdu, the Master's programs in Great Britain universities can receive financing between GBP 4,000 and GBP 35,000 per year.
The maximum threshold of a loan for post-graduate studies in Great Britain is GBP 10,000 and applies to all programs and education categories.
Eligible students must have resided in a EU member state over the past 3 years before starting the program, and must be under 60 years old. The program includes all certified institutions in the United Kingdom.
The loan is reimbursed right after the completion of studies, but only if the graduates exceed a certain revenue limit. The interest rate corresponding to the loan is calculated at the annual inflation rate in Great Britain, plus 3 percent. In ten case of students in the university year 2016-2017, the reimbursement will begin after April 2019.   
The reimbursement depends on the revenue obtained after graduation. In Great Britain, the minimum gross revenue that is taken into account is GBP 21,000, The monthly installment is calculated as 9 percent of the value that exceeds the minimum threshold.
For Romania, the minimum threshold of the annual gross income from which the employee will start the return of the loan is GBP 12,600.
"If the graduate returns and is hired in Romania, he/she will start to reimburse the loan only after exceeding an annual gross revenue of RON 75,600 (approximately GBP 12,600). There will also be cases when Romanian students in Great Britain must return both the loan for university studies and the loan for the Master's or MBA program. In these conditions, the reimbursement of the two loans will be aggregated," according to Ana Maria Papp, manager of the Department for Higher Education, IntegralEdu România.
In the case of the loans for PhD degrees, there is an independent financing system of RON 25,000. There are procedures that apply for every student.
In order to find out the best terms for loans, the deadlines for application and the enrollment, students are advised to consult an education specialist. They can do this at the IntegralEdu office or the World Education Fair, that will take place between February 20-27 in Bucharest, Constanta and Craiova.
Otilia Haraga