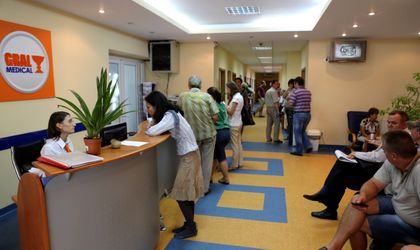 Private healthcare chain Gral Medical posted a turnover of RON 53 million (EUR 11.9 million) in the first half of this year, up by 12 percent on the similar period of 2014, against a slower growth trend of the medical services market, the company announced in a press release. 
For the entire year 2015, Gral Medical forecasts a turnover of RON 111 million (EUR 25.1 million) and a total investment budget of EUR 5.5 million.
The first investment has already been made at the start of this year when Gral inaugurated 2 large clinics in Bucharest and Ploiesti on a total surface of 2,200 square meters.
Gral Medical has currently underway new projects which include the opening of a last-generation Radiotherapy section as well as the inauguration of new centers in the rest of the country, where there are strategic opportunities, the healthcare chain announced in a press release.
The OncoFort hospital was the main engine of growth of the healthcare chain, having generated 30 percent higher revenues in H1, 2015 compared to H1, 2014. This was because the surgery section specialized on more complex interventions. The company also brought onboard more surgeons specialized in toracal surgery, breast surgery and reconstructive surgery. The number of patients from localities outside Bucharest who benefited from the Gral Medical radiotherapy services doubled.
Gral Medical centers in other cities than Bucharest also finished the semester with a 35 percent growth in turnover and 30 percent growth in the number of patients.
"Based on results obtained in the first semester and the positive trend forecast for the next few months, we are positive we will reach the estimated figures this year. This year, only healthy businesses will have a double-digit growth , and they will dictate the rules on the market," according to Robert Chitan, marketing and development director of Gral Medical.
Gral Medical comprises two companies, Gral Medical and Medical Center Gral, which include over 24 clinics and laboratories. The medical team counts over 1,200 people.
Otilia Haraga