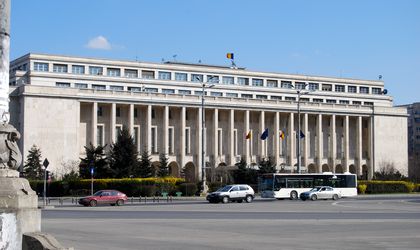 After a day and a half of hearings resulting in positive votes of the proposed ministers, on Tuesday the proposed ministers have presented themselves in Parliament for the analysis of the governing plan and received a vote of confidence. The newly formed government will hold its first meeting on Wednesday.
A majority of half plus one votes (meaning at least 274) was needed for the government to be validated. Of 506 cast votes, 389 were for, 115 against and two votes were null.
"I believe that this vote shows you have understood and accepted what we have set to do, that you have accepted the openness we are offering so that this legitimacy the elected Parliament of Romania has transferred to this Cabinet of technocrats may turn into efficiency and good results that will restore the Romanians' confidence in the fact that the government action is for Romanians, which can help us regain confidence in ourselves and go further," said newly vested prime minister Ciolos, quoted by Agerpres.
The social democrats (PSD), the liberals (PNL), the Hungarian Democratic Union of Romania (UDMR) and the National Union for Romania's Progress (UNPR) had announced their intention to support the technocrat government. The Alliance of Liberals and Democrats (ALDE) cast a negative vote, its co-chair Calin Popescu-Tariceanu stating that "representative democracy will be discarded" should the government receive the vote of confidence.
"Let's admit in all lucidity, the way it comes today before Parliament, technocracy kills democracy. The installation of a presidential Government will mark the transition to a political regime which empties representative democracy of its content, a political system that will endanger the constitutional principles, civic rights and freedoms, democratic values and the rule of law, and that will turn Parliament into a form devoid of substance," Tariceanu said in the Parliament plenum.
Representatives of the Popular Movement Party (PMP) also said they would vote against it, showing their disappointment with the governing plan the technocrats presented.
The Ciolos cabinet has the following structure (short bios here):
– Costin Grigore Borc – deputy prime minister and minister of economy, trade and relations with the business milieu
– Vasile Dancu – deputy prime minister and minister of regional development and public administration
– Lazar Comanescu – foreign affairs minister
– Petre Toba – internal affairs minister
– Mihnea Ioan Motoc – national defence minister
– Anca Dana Dragu Paliu – public finances minister
– Raluca Alexandra Pruna – justice minister. Pruna is a new addition to the ministerial team, replacing the initial proposal, Cristina Guseth, who has been withdrawn due to her performance in the Parliamentary committee hearings.
– Aura Carmen Raducu – european funds minister
– Achim Irimescu – agriculture and rural development minister
– Claudia Ana Moarcas – labour, family, social protection and elders ministry
– Victor Vlad Grigorescu – energy minister
– Marian Dan Costescu – transport minister
– Cristiana Pasca Palmer – environment, waters and forests minister
– Patriciu Achimas-Cadariu – health minister
– Adrian Curaj – education and scientific research minister
– Marius-Raul Bostan – minister of communications and for information society
– Vlad Alexandrescu – culture minister
– Elisabeta Lipa – youth and sport minister
– Victoria-Violeta Alexandru – minister-delegate for public consultation and social dialogue
– Dan Stoenescu – minister-delegate for relations with Romanians everywhere
– Ciprian Bucur – department for relation with Parliament
– Ioan Dragos Tudorache – head of prime minister's chancellery.
Natalia Martian