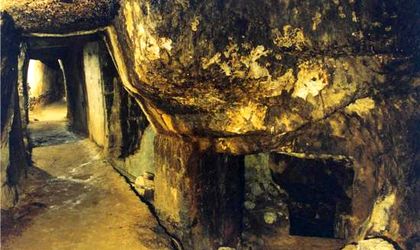 The Environment minister Rovana Plumb announced on Saturday that the Romanian Government will request Rosia Montana Gold Corporation (RMGC) to make public the mining licenses in Rosia Montana in response to demands from the civil society and NGOs.
PM Ponta was the first who suggested the contract declassification on his facebook account last Friday, although this would "stir the mound of interests once again".
"After a discussion with the minister I will ask the respective company directly to accept the declassification. If that contract helps Romania, it shouldn't be anything hidden as it was lobbied by the highest authority," wrote Ponta. The PM was referring to suspended President Basescu who urged the Government and the Parliament to decide on controversial mining and shale gas projects. He said this would create jobs and grow the economy.
RMGC said in a press statement that the license contract represents classified information, according to the law. "If the state changes the law and makes the mining licenses public, we will comply with the law, as we have done up to now," said the company.
Miner profile
RMGC is controlled by the Canadian firm Gabriel Resources, which has an 80.46 percent stake in the company and state-owned Minvest Deva with 19.31 percent of the share capital. The company is trying to obtain full permitting to start mining in Rosia Montana, which has 14.6 million ounces of gold and 64.9 million ounces of silver. It acquired a concession license in 1997 that runs for twenty years.
The company still needs to get an environmental permit for the project and needs to complete the urban planning project (PUZ) for the industrial and historical area in Rosia Montana. Once this is fulfilled, it will need another one year to grant other permits, complete acquisitions and finalize the project build details. Then, it will take around 30 months to complete construction works.
Gabriel Resources says that 3,000 direct jobs will be created over the project's life time and contribute USD 30 billion to Romania's GDP. The company wants to extract 300 tons of gold and 1,700 tons of silver in 16 years.
Minister Plumb said the estimated USD 127 million that will be invested by RMGC to protect the environment need to be updated with the EU provisions included in the domestic legislation in 2008.
Despite the permitting delays, the company has already developed key infrastructure in the area and has purchased a crusher and three mills.
Ovidiu Posirca