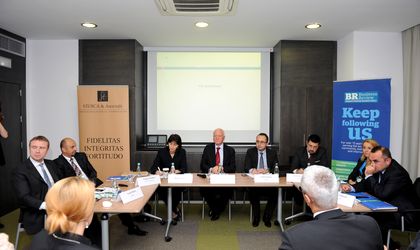 Producers of medicines are expected to pay RON 1.9 billion (EUR 427 million) in clawback tax next year, in a scenario that does not take into account the update of the reimbursement drugs list, said Cristian Busoi, president of the National Health Insurance House (CNAS), during the second Pharmaceutical Industry Roundtable, organized last week by Business Review.
Busoi acknowledged the current level of the clawback contributions, accounting for between 16 and 20 percent of a producer's turnover, "cannot be easily supported" by producers of generics, which are drugs with expired patents, or by the innovative industry.
"I think the clawback tax had a strong motivation and the idea of having a mechanism to control costs in the healthcare system for prescriptions and the release of drugs to patients is fundamental," said Busoi.
The clawback came into force in 2009 in a move by the authorities to control the consumption of drugs. However, the contribution mechanism is on its fourth version to date and producers are claiming they have to finance the surplus consumption of drugs.
"The clawback is basically overspending. Whatever is overspent on the budget is paid by one player in the industry, the producer. No one else, including the one who drew up the budget, has to deal with it," said Luca Visini, general manager of Eli Lilly, a member of the Romanian Association of International Medicine Manufacturers (ARPIM).
The current clawback mechanism has been challenged in court by several producers, some of which have won favorable decisions to be relieved from paying it.
Valeriu Stoica, founding partner at STOICA & Asociatii, blame the contradictory decisions in court on a "series of hesitations" in the current regulation.
"I believe that for this tax to work it needs to be bearable and for this to happen it needs to be reasonable," said Stoica.
Clawback remains unpredictable
The authorities are currently pondering the approval of a differentiated clawback system for generics and originals, although the CNAS head hinted this could happen only if the estimated collection of the contribution for next year remains the same.
With Romania set to approve the update of the reimbursed drugs list next year, Busoi warned that the additional consumption will have to be paid for by producers through the clawback tax. He says that 141 new molecules are on the approval list.
According to Mihaela Iancu, head of the pharmaceuticals and medical devices departments within the Ministry of Health, the list will be updated next year.
Busoi stated the quarterly approved budget for pharmaceuticals stands at RON 1.51 billion (EUR 337 million) for next year. The update of the reimbursed drugs list will add between RON 200 (EUR 45 million) and RON 500 million (EUR 112 million) in additional consumption, according to various scenarios by the industry and the CNAS.
Ovidiu Posirca