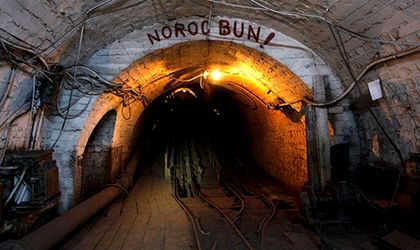 This year the government will allocate state aid worth RON 143.4 million (EUR 32.3 million) in order to properly shut down the uncompetitive coal mines of the Valea Jiului Petrosani Mine Closure National Company.
State aid is borne entirely by the state budget, through the Ministry of Energy, Small and Medium Enterprises and Business Environment, and it was approved by the European Commission in 2012, informs Mediafax.
Petrosani National Coal Company (CNH) owns seven coal production units, respectively Lonea, Petrila, Livezeni, Vulcan, Paroseni, Lupeni and Uricani.
The mines within CNH considered to be uncompetitive are Petrila, Paroseni and Uricani. The deadline for their closure is 2018.
Lonea, Livezeni, Vulcan and Lupeni mines were included in 2012 in a new company, Complexul Energetic Hunedoara, alongside Deva and Paroseni power plants.
The total amount will be split for the energy coal delivered by the mines undergoing final closure process, which will receive RON 93.3 million (EUR 20.9 million) to cover the current production's losses, respectively for the units in the final closing process, which will be allocated RON 50.1 million (EUR 11.2 million) for costs not related to the current production.
Moreover, the amount of RON 25.8 million (EUR 5.8 million) will be used for compensatory wages, while for the works related to the mine closing will be used RON 24.3 million (EUR 54.6 million).
Andreea Marinas