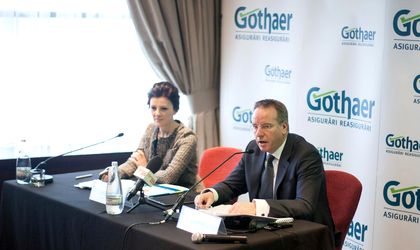 German insurer Gothaer Group has officially launched in Romania as Gothaer Asigurari Reasigurari, after Gothaer Finanzholding, the financial arm of the group, took over last year a 67 percent stake in Romanian insurer Platinum Asigurari Reasigurari for an undisclosed sum.
Gothaer is set to invest EUR 15 million through to 2017 to recruit consultants, expand the distribution network and launch new products. The insurer aims to reach EUR 60 million in gross written premiums in this period.
"We want, form all perspective, to be close to our clients and their needs and we will extend our company's sale structure by opening branches in the main urban areas in Romania," said Anca Babaneata, CEO Gothaer Asigurari Reasigurari.
The insurer addresses both the retail and corporate sector and is the first to launch an insurance premium for the renewable energy sector. Gothaer has provided this service in Germany and in other mature markets in Western Europe.
Jurgen Meisch, CFO of the German insurer, said it plans to become a key player in the local non-life sector in the next five years.
Platinum Asigurari Reasigurari was set up in 2006 as the local subsidiary of Clal Israel. It was taken over in 2009 by Constantin Toma and Efraim Naimer, who are still minority shareholders in the company.
The insurer became profitable in 2011, when it registered EUR 4.27 million in gross written premiums.
Ovidiu Posirca