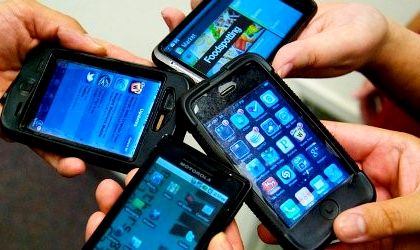 Romanians are the most-mobility oriented internet users in this part of Europe. Most Romanians start their day online, write on blogs and are very open to new technologies, according to the results of the survey Internet in the Day to Day Life, ordered by Google and carried out in five countries: Romania, the Czech Republic, Slovakia, Hungary and Poland.
The survey included 1,000 respondents from each of these five countries, who are above 15 years old and use the internet at least once a week.
Only 32 percent of Romanians use internet nearly every day, which is the least out of the five countries surveyed, representing 62 percent of the internet use in Hungary and 61 percent in Slovakia. About 45 percent of Romanians go online at least once a fortnight, according to Eurostat data.
Approximately 67 percent of Romanians use their mobile phones to go online, and 32 percent use tablets. Romanians like tablets and smartphones more than the Poles and the Hungarians, they wish to be online even on a desert island, and have started to watch more videos on the internet than they do TV programs. However, Romanians are still cautious when it comes to online payments.
Romanians seem to be very open to technological novelties such as vocal search, with 60 percent being open to these types of innovations, the highest percentage of all the five countries.
75 percent of Romanians go on social media and 72 percent communicate online via text messages, but women socialize on the internet more than men.
Laptops and PCs are the most used used for online searches, while smartphones and tablets are used for social media.
97 percent of Romanians who use social media have a Facebook account, while Google+ is the second preferred social media network, by 44 percent of social media users. Checking their Facebook, Google+, Twitter or Instagram account is the most frequent activity Romanians do on their smartphone (58 percent) and tablet (45 percent).
However, only 35 percent of Romanians who go online carry out banking operations, ranking Romania on the last place of the five countries surveyed. Romania is also on the second to last place as far as online shopping, with only 60 percent of Romanians making online shopping.
Romanians are also very high on blogging: 12 percent of them own blogs while in the other countries the average percentage is 7 percent.
Over three quarters of Romanians who are connected online watch videos online or download them from the internet, with 46 percent of Romanians spending more time watching videos online than they do TV programs. More than two thirds of internet users watch videos on YouTube.
The alarm, the clock and the camera are the most popular smartphone applications, used by approximately 80 percent of Romanians. Romanians like most all to play games (68 percent), listen to music (57 percent) and take pictures (47 percent) from their smartphone.
Otilia Haraga