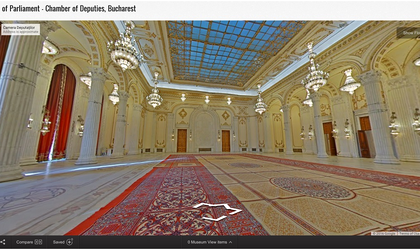 Google Cultural Institute, a platform hosting exhibits and collections from museums and archives across the globe, has launched new Romanian collections starting this week, including street view images of the Palace of Parliament in Bucharest.
The Palace of Parliament, an impressive heritage of the communist era through its dimensions and history, offers a virtual tour of several rooms with the aid of street view, among which Nicolae Iorga, Unirii, Take Ionescu and Al. I. Cuza halls. Visitors can also enjoy a series of art objects from the Palace's collection. Some 150 works by artists such as Nicolae Grigorescu (Countrywoman with wooden pail and child), Octav Bancila (Boy with a guitar) and Corneliu Baba (Harlequin) have been digitized and offered for display.
The Brukenthal National Museum has also added 29 new works of art to its virtual collection on the Google Cultural Institute, digitized with the aid of Google's Art Camera technology, offering high resolution images. New entries include works by Nicolae Grigorescu (Street in Vitre), Misu Popp (Young Lady in Blue) and  Hans von Aachen (The Rape of Proserpine).
The Wassertalbahn Association launched three new virtual expositions dedicated to the Mocanita train on the Vaser Valley and a mobile app offering information on the history of the area, the construction works of the railway and the locomotives.
The Chamber of Architects of Romania have added to Google's collections a gallery presenting the 2015 edition of Street Delivery in Bucharest, a festival aiming to bring the urban space back to the community.
The ADEPT Transilvania Foundation is a new partner to the project, offering for view three exhibitions containing cultural and handicraft traditions in Transylvania, from ceramics and fortified churches to gastronomy and rural life.
The collections in Romania added today are part of a larger release which includes new exhibitions in 100 museums worldwide. Among other newcomers, the famous rotunda of the Guggenheim Museum in New York – a work of art in itself – can be accessed via street view and the painting "Water Lilies" by Claude Monet is digitized to a "gigapixel" resolution, which allows exploration of details that are not visible to the naked eye.
Five years ago, on February 1, Google Cultural Institute was launched with 17 partner museums and hundreds of art works available online visitors. In 2013 Romania joined the queue.
With this update, Google Cultural Institute reaches over 1,000 partner cultural institutions worldwide. More details about the different collections that have been added along the way can be found on the dedicated blog.
Google was founded in 1998 and since then has grown to having over 50,000 employees on a global scale, offering diverse products and platforms, such as Search, Maps, Ads, Gmail, Android, Chrome and Youtube. In October 2015, Alphabet was created to incorporate Google and other companies that were not in the same field as Google, such as Life Sciences or Calico.
Natalia Martian