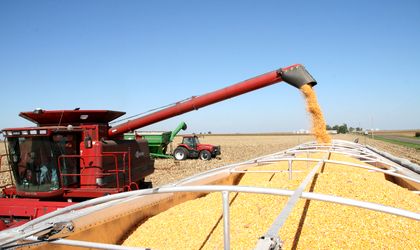 Food commodity markets, and especially the cereals market, are forecast to be more balanced in 2013-2014, according to the most recent Food Outlook report published by the Food and Agriculture Organization of the United Nations (FAO).
The world cereal harvest is forecast to surge to a record 2,460 million tons in 2013 which could lead to "calmer markets" and cereal prices drops, according to FAO.
"Latest indications point to a more comfortable world cereal supply-and-demand balance in the new 2013/14 marketing season. After a relatively tight situation and high prices in 2012/13, good production prospects and a likely replenishment in world stocks could pave the way for calmer markets and some easing of prices in the new season," says the report.
This year's forecast record cereal production would represent a 6.5 percent hike on last year's reduced level. The increase will mainly be supported by higher global wheat output and a rebound of corn production in the US.
Global cereal utilization is forecast to reach 2,402 million tons in 2013/14, which is 3 percent above 2012/13. Much of the increase is expected to come from higher use of corn for feed and industrial purposes in the US.
World trade in cereals is forecast to reach 306 million tons in 2013/14, a similar level to 2012/13.
World sugar production in 2012/13 is forecast to increase by 4.8 million tons, or 2.8 percent, to 180 million tons, with a 6.6 million ton surplus expected.
World meat production is forecast at 308.2 million tons in 2013, a increase of 4.3 million tons, or 1.4 percent on 2012.
International prices of dairy products registered strong growth during the first four months of 2013, particularly in March and April, and high prices are expected for the next few months. The main cause of the price surge was a steep fall-off in New Zealand's milk production.
Global production of fish and fisheries products is expected to reach a new record level in 2013, going above 160 million tons for the first time. Fish for direct human consumption is also expected to increase significantly this year as smaller quantities are to be used for fish meal production. Global per capita fish consumption is reaching 20 kg a year, with aquaculture contributing close to half.
Positive early production forecasts for 2013/14 suggest a more balanced world supply-and-demand situation for oilseeds, and thus a general easing of prices.
Simona Bazavan