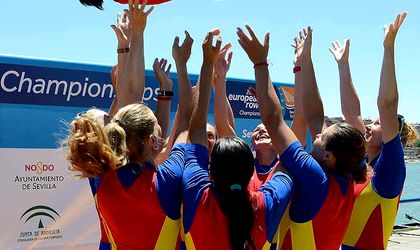 Romania won two golden medals at the Seville European Rowing Championship, at the women's eight+1 with the team composed of Roxana Cogianu, Ioana Craciun, Cristina Grigoras, Irina Dorneanu, Cristina Ilie, Andreea Boghian, Camelia Lupascu, Ionelia Zaharia and Daniela Druncea and the W2 paddle boat (Cristina Grigoras and Andreea Boghian) won the 2,000-meter race. Also, Romania's M4- paddle boat won the silver medal in the 2,000-meter race. The boat  (Marius-Vasile Cozmiuc, George Palamariu, Cristi-Ilie Parghie, Florin Curuea) finished the race in 6 minutes and 23.83 seconds after Netherlands (6 minutes and 21.79 seconds), while Germany was third (6 minutes and 24.94 seconds).
The victory from Sunday's race was at more than two-scull' length ahead of second ranked Germany, with the bronze going to Russia. This means that Romania remain unbeaten in this boat class at the European Championships. The eight included Cristina Grigoras and Andreea Boghian who also competed in the women's pair  and not only successfully defended their European Championship title, but scored the second of two gold for their nation in the process.
The 2013 European Rowing Championships in Seville, Spain concluded with 19 nations earning medals and Germany taking the top spot overall on the medals table.
Racing began on 31 May and finished with finals in 17 events on 2 June. Germany scored a total of eight medals, three of them gold. The gold success came in the men's and women's quadruple sculls and the men's eight. All of these boats were London Olympic medalists and their wins indicate that Germany is already back on pace for the 2013 season.
In 2014 the European Rowing Championships will be held in Belgrade, Serbia.
Oana Vasiliu