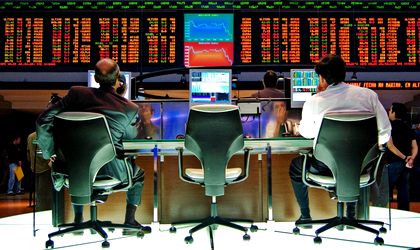 Chinese stocks plummeted on Thursday, triggering an early end to the trading day for the second time this week and sending global stock markets and oil prices lower as fears rippled across the world. The Bucharest Stock Exchange (BVB) was also affected by the situation in China, opening its first trading session of the weak with heavy losses, local media reports. The BET, index which shows the development of the 10 most liquid shares, was down 4.27 percent approximately 30 minutes after opening time, finding itself in a similar situation to the rest of Europe's markets, also according to local media.
Just 29 minutes after they opened on Thursday, Chinese markets stopped trading at 9.59am local time, as the newly installed "circuit breakers" came into force for the second time this week, according to the Wall Street Journal (WSJ) and Bloomberg.
Triggered by sharp moves in an index that tracks Shanghai and Shenzen's largest 300 stocks, the Shanghai Composite Index (SCI) 300, the system first intervened on Monday when the SCI300 experienced an initial 7 percent slump and ended stock exchanges early  as a move to curb market volatility, according to the Hong Kong Free Press. On Thursday, when trading resumed after an initial 15-minute halt, the sell-off became even more pronounced and within five minutes the CSI 300 Index had fallen to 7 percent, thus abruptly ending trading for the day, reports the WSJ.
In an attempt to stop the plunge in stock prices that has already started to spread through global financial markets, the Chinese Securities Regulatory Commission (CSRC) announced on Thursday, following the trading halt, "that shareholders who own 5 percent or more of a listed company will be barred from selling more than 1 percent of its total shares outstanding, and will be required to inform exchanges of any sales plans 15 trading sessions in advance", according to the WSJ. This trading limit comes after a six-month ban on sales by large shareholders that the CSRC had imposed on July 8 as it tried to prevent the market's summer collapse.
Nevertheless, the effects of the Chinese slump rippled out into the Asian and global markets. The Japanese Nikkei 225 slipped more than 400 points to close 2.33 percent lower on Thursday, South Korea's Kospi lost 21.10 points, or 1.10 percent, and Australia's ASX 200 closed down 112.79 points, or 2.20 percent, reported CNBC. European stocks also opened to steep losses on Thursday, with the Stoxx Europe 600 being down 3.4 percent mid-morning as energy and basic resources shares slumped and Germany's DAX Index falling 3.5 percent, reports the WSJ.
The Chinese effect spread to commodity markets as well, sending Brent crude oil down 2.3 percent to USD 33.42 a barrel, metals also falling, according to the WSJ, which consequently affected commodity-linked sectors. In Europe, the China-exposed mining and energy sectors were most affected, going down 5.2 percent and 4.2 percent respectively as oil prices lingered near multi-year lows, further reports the WSJ.
Troubling news from China
The yuan's devaluation is considered by investors to be a major trigger for "Thursday's market drama", stated the WSJ, because "in addition to what it signals about China's economy, analysts worry that a devaluation on the yuan will push neighboring countries to lower their currencies while dampening Chinese demand for imports and further hurting confidence in the country's economy".
Concerns over the Chinese economy are not new, however. Earlier this year, Chinese stocks experienced their biggest slump in eight years at the time during what China's state media had come to dub "Black Monday" (August 24, 2015). The collapse was fueled by mounting concerns about a Chinese economic slowdown, concerns that seem to be echoing throughout the current situation.  China has admitted that its foreign-exchange reserves have reached a three-year low of USD 3.33 trillion at the end of December and new government data set to appear next week are forecast to show that Chinese exports have shrunk for a sixth month straight in December, according to Bloomberg.
Billionaire investor George Soros said to an economic forum in Sri Lanka on Thursday that "China has a major adjustment problem. I would say it amounts to a crisis. When I look at the financial markets there is a serious challenge which reminds me of the crisis we had in 2008", as reported by Bloomberg.
At this point, the Chinese situation, together with the geopolitical tensions in the Middle East and with North Korea, and the renewed slump in oil prices, can be said to have worsened the risk-averse tone that characterized the international economic environment even before this week's poor showings and to have deepened investors' concerns over slowing global growth.
Andreea Tint