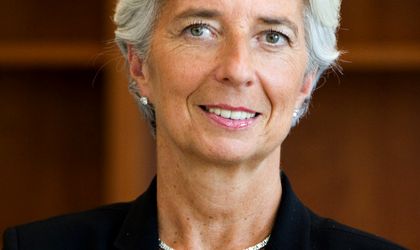 The global economy is set to expand by 3.1 percent in the next period, said Christine Lagarde, IMF's managing director, on Tuesday, during her official visit in Romania, reported Agerpres newswire.
Lagarde said that only two countries in the region will be in recession this year (Croatia and Slovenia), down from eight in the previous year.
"Through the IMF's eyes, we see an economic growth of 3.1 percent. The economic figures haven't been positively revised, but they revised a little bit negatively," said Lagarde, during her speech that was held at the National Bank of Romania.
"You have progressed a lot and if I am looking at the partnership between the IFM and Romania, I see good things. Performance, especially in the fiscal sector, healthcare and energy sectors," said Lagarde, quoted by Mediafax newswire.
She commented that state-owned companies need more reforms to boost their productivity.
The IMF director also met with President Basescu and PM Ponta, as part of her two-day visit in Romania. The discussion focused on the overall development of Romania, including the absorption of EU funds and the healthcare financing.
"Looking at the figures, I can say that populist decisions can unbalance Romania and this trend exists right now in Romania," said the president.
Romania has agreed to continue structural reforms and boost the absorption of EU funds, in order to ensure medium and long term growth, said the government in a statement.
A joint team of the IMF, European Commission and World Bank will return in Bucharest this week to start negotiations on a new precautionary loan.
Ovidiu Posirca